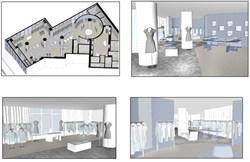 With the new space, we are thrilled to be able to host more events and designer appearances.
White Plains, NY (PRWEB) February 10, 2014
Iconic high-end women's fashion destination Mary Jane Denzer will be relocating to a new home in White Plains, establishing itself in the elegant Ritz-Carlton complex at the heart of the bustling city. Mary Jane Denzer – which boasts a 35-year pedigree in Westchester County – is moving from its current space on Mamaroneck Avenue, initiating a trend that is transforming Renaissance Square into the county's fashion Mecca. The Mamaroneck Avenue location will remain fully operational until the boutique settles at the Ritz in late spring or early summer of 2014.
The new space will showcase premier designs, peerless service and owner Mary Jane Denzer's nonpareil fashion sense in a glamorous, 5,000-square-foot space. The store tapped globally-renowned architectural firm Brand Allen, which has a track record of crafting posh retail spaces around the world – including Mary Jane Denzer's previous location. Cushman & Wakefield, the world's largest privately-owned real estate firm, acted as the selling agent.
Founder Mary Jane Denzer said the boutique's acclaimed selection – which has earned a reputation as the finest in the metropolitan region – will remain at the fore. But the new space will allow the store to offer a more comprehensive and personalized shopping experience, as well.
"It's a fabulous location, and our merchandise will continue to have the same exciting impact on fashion," said Mary Jane Denzer, who founded the business in 1980. "With the new space, we are thrilled to be able to host more events and designer appearances." Denzer is known for her trips abroad to fashion capitals like Paris, Milan and London, her access to top couturiers like Oscar de la Renta and Valentino, and a keen ability to bring de rigueur styles home to Westchester.
"For 35 years, Mary Jane Denzer's eye for fashion, commitment to customer service and attention to detail have brought clients from around the region to White Plains," said Thomas Roach, Mayor of White Plains. "We are pleased that she will continue to call our city home in her new location at the Ritz Carlton, and we wish her well."
Clients can visit the location on the ground floor of 7 Renaissance Square, adjacent to the Ritz-Carlton residences. The new boutique will offer validated parking at the Ritz.
About Mary Jane Denzer
Mary Jane Denzer is Westchester's leading authority on fashion and haute couture, offering a broad range of the world's finest and most current fashions and designers. Founder Mary Jane Denzer brings a three-decade history of fashion experience to the heart of White Plains, where she and her team work to match each client with the perfect piece through personalized care. Expert taste, unmatched services and a glamorous location have earned the boutique a platinum reputation throughout the metropolitan New York area. Clients can visit the present location at mjdenzer.com, or make an appointment by calling (914) 328-0330.