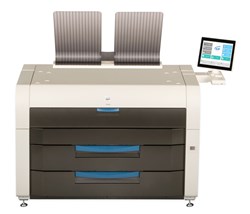 KIP, through its patented "High Definition Print Technology" will offer our clients the highest quality wide format printing and scanning with the lowest total cost of ownership in the industry. Christy Sneen, Production Print Specialist
Minneapolis, MN (PRWEB) February 11, 2014
Loffler Companies, the leading business technology and services provider in the upper Midwest, is extremely happy to announce a key strategic partnership to offer the full line of KIP wide format printing and scanning products.
KIP printers and scanners are the solution that architecture, engineering and construction businesses have been waiting for to print plans, maps, posters and signs. The speed, accuracy, scan, copy and fully integrated stacking and folding functions make KIP large format printers the perfect solution for saving money and production time in the fast-paced environment of today's business world.
"I'm excited to be able to offer our clients the award winning KIP wide format product line" said Christy Sneen, Production Print Specialist. "KIP, through its patented "High Definition Print Technology" will offer our clients the highest quality wide format printing and scanning with the lowest total cost of ownership in the industry. The addition of KIP rounds off our expansive and total solutions in document imaging."
Among the many features making KIP ideal for many industries, including manufacturing, utilities, transportation and federal and state government, is fast output from 3-22 "D" size prints per minute, 600x2400 dpi print resolution, full scanning up to 36", large touch screens with access to all functions, Integrated USB port and mobile integration with any phone, tablet, laptop or PC.
"We couldn't be happier to offer another excellent option to our clients for wide format printing," said Jim Loffler, President and CEO of Loffler Companies. "Our goal is to offer the best solution available to every organization we partner with. KIP is state-of-the-art in large format printers offering mobile cloud convenience and high resolution for detailed, clean fine lines and legible text.
Supporting clients in the effective implementation of business solutions with its knowledgeable and dedicated team of IT and consulting and workflow specialists, Loffler Companies provides integrated office technology and services partnered with leading brands such as Canon, Konica Minolta, Toshiba, Océ, KIP, HP, Lexmark, NEC, ShoreTel, EMC, and VMware. Its offerings include multifunctional copiers, printers, managed print services, IP phone systems, IT solutions, document management, dictation, call recorders, and on-site managed FM services.
A family-owned and nationally recognized leader in business technology and service, Loffler Companies has a 28-year history of giving back to the community, recently winning a prestigious Jefferson Award for Public Service. Loffler supports many great causes including the Susan G. Komen Race for the Cure (Gold Sponsor), American Cancer Society, Ronald McDonald House, VEAP (Volunteers Enlisted to Assist People), Memorial Blood Centers, Feed My Starving Children, Catholic Charities, St. Joseph's Home for Children and more.
About Loffler Companies:
Loffler's 360 employees support clients in Minnesota and Western Wisconsin that are local, national, and international in scope. Visit http://www.loffler.com or call 952-925-6800 to discover how Loffler can provide the best office technology and service solutions for your business or organization.