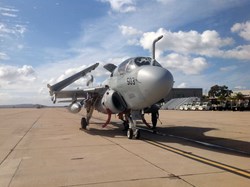 San Diego, CA (PRWEB) February 10, 2014
The Flying Leatherneck Aviation Museum and Historical Foundation welcomed the Northrop Grumman EA-6B Prowler to Marine Corps Air Station Miramar today. The aircraft is being prepared for display, and the museum is inviting the public to attend the unveiling ceremony this month:
DATE: February 28, 2014
TIME: 2:00 p.m.
LOCATION: Flying Leatherneck Aviation Museum at MCAS Miramar, T-4203 Anderson Avenue, San Diego, CA 92145-0316. The museum is located directly across the street from 8604 Miramar Road. From I-15, proceed west for 1.3 miles and turn left into the parking lot. From I-805, proceed east for 3.9 miles and turn right into the parking lot. Look for the American flag and Marine Corps flag on the fence.
According to Northrop Grumman, the EA-6B Prowler is the U.S. Navy's and U.S. Marine Corps' tactical jamming aircraft. It joined the fleet in January 1971 and has gone through four major upgrades.
The Prowler's primary role has been to protect fleet surface units and strike aircraft by jamming enemy radar and communications, and perform electronic surveillance. The latest upgrade, the ICAP III System, delivers more powerful and additional tools to the warfighters, be they in the air, at sea or on the ground.
About The Foundation  
The Foundation actively supports the operation of the Marine Corps Air Station (MCAS) Miramar Command Museum (Flying Leatherneck Aviation Museum) located on MCAS Miramar. We accomplish the mission by providing a volunteer base to support day-to-day operations and by providing financial support to augment austere DoD budgets. For more information, please visit http://www.flyingleathernecks.org.
About the Flying Leatherneck Aviation Museum
The Flying Leatherneck Aviation Museum (FLAM) has undergone a rigorous certification process and is one of only three certified Marine Corps Command Museums. The FLAM is the only museum in the world dedicated to the primary purpose of preserving the history of U.S. Marine Corps aviation and boasts a collection of more than forty vintage aircraft, a library with extensive research materials, photos, video, valuable memorabilia and artifacts.