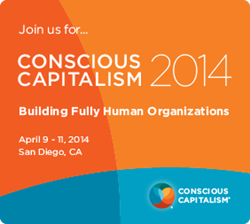 Portland, OR (PRWEB) February 12, 2014
Conscious Capitalism, Inc. CEO Doug Rauch announced CEO-led Practicums at Conscious Capitalism 2014, April 9 – 11, 2014 at Paradise Point Resort in San Diego, California. "One of the hallmarks of Conscious Capitalism is the role of courageous CEOs and other business leaders who continually strive to elevate the way they and their teams function – both in terms of behavior and performance," observed Rauch. "We are thrilled to have a cohort of inspiring corporate leaders to share their experience, insights and tools with the participants at CC 2014."
Among the Executive-led Practicums are "Unleashing Innovation: The Question is the Answer" led by Dev Patnaik, CEO of Jump Associates, a strategy consultancy to Fortune 100 companies; "Changing the Game" led by Laura Roberts, CEO of Pantheon Chemical, a ground-breaking Conscious Chemical company; and "Ingredients to a Culture of Excellence" led by Josh Paine, President of CheapCaribbean.com, a segment-leading travel web portal; "Advancing Human Development" led by Dale Herold, President of EnPro Industires, a $1B+ global engineering services company; and "Finding Your Inner Consciousness and Spreading the Vibe" led by Jeff Sinelli, CEO of Which Wich, a chain of 250 sandwich shops.
CC 2014 is designed for CEOs and their executive teams, executive team members and entrepreneurs, as well as consultants and coaches who serve and support them, and anyone else interested in Conscious Capitalism.
This two-day event is designed to deepen participants' practical application of the principles of Conscious Capitalism. More than forty 75-minute practicums, designed to deliver practical tools and best practices for applying the principles to everyday decisions, will form the foundation of
the program.
Rounding out the program are rich opportunities to connect with peers and high potency keynote presentations by Walter Robb (Co-CEO of Whole Foods Market), Dov Seidman (CEO of LRN & author of HOW: Why How We Do Anything is Everything), Ann Rhoades (former Chief People Officer of JetBlue Airlines & author of Built on Values: Creating an Enviable Culture that Outperforms the Competition) and Raj Sisodia (co-author of Conscious Capitalism: Liberating the Heroic Spirit of Business).
For more information about Conscious Capitalism 2014 visit the Conscious Capitalism web site or the event registration page.
###
About Conscious Capitalism
Conscious Capitalism is a movement dedicated to elevating humanity through business.
Conscious Capitalism, Inc. is a non-profit organization dedicated to cultivating the theory and practice of Conscious Capitalism through events, presentations, publications and social media. We also support an emerging network of Conscious Capitalism Chapters, which serve as communities of inquiry for business leaders, entrepreneurs, coaches and consultants and others.