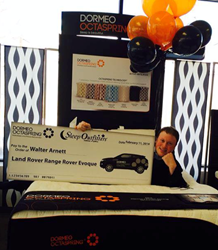 'I saw a plaque in Sleep Outfitters' window saying you could win a Range Rover,' said Arnett. 'Entering contests is a hobby of mine. I learned so much about Dormeo Octaspring (in preparing the TV commercial) that I could sell their mattresses.'
Lexington, KY (PRWEB) February 14, 2014
Lexington resident Walter Arnett became the proud owner of new Range Rover Evoque on Tuesday, the result of a national mattress contest.
In a ceremony at mattress retailer, Sleep Outfitters Woodhill store at 2303 Woodhill Dr. in Lexington on Tuesday, the retailer, and mattress manufacturer Dormeo Octaspring, announced that Arnett was the winner of a national video competition sponsored by Dormeo.
The car was to have been parked in front of Sleep Outfitters' store for Arnett to drive home, but weather conditions prevented the vehicle from being delivered on time. Instead, Arnett was presented with a giant check-like placard, which bore his name and a photograph of his new Range Rover.
On Labor Day, memory foam mattress manufacturer Dormeo Octaspring launched a contest inviting entrants to write a TV commercial for the company. Dormeo promised the winner the Range Rover prize and the possibility that it might produce and air the ad as part of the company's regular advertising campaign. Entries came in from 25 of the 50 states, 758 in all, according to Dormeo officials. The contest ended Jan. 20. Arnett was the only entrant to submit an actual finished video, which can be seen on You Tube at http://www.youtube.com/watch?v=85BUT4h06sY.
"I saw a plaque in Sleep Outfitters' window saying you could win a Range Rover," said Arnett. "Entering contests is a hobby of mine. I learned so much about Dormeo Octaspring (in preparing the commercial) that I could sell their mattresses."
Dormeo is a British mattress manufacturer that entered U.S. markets about two years ago. The company's memory foam mattresses are supported by eight-sided memory foam springs, or "Octasprings." Sleep Outfitters and its sister retail brands, Mattress Warehouse and Mattress King, are the sole distributors of Dormeo Octaspring mattresses in their markets.
There was quite a crowd on hand to witness Arnett's award since the event occurred just as WLAP radio sports talk personality Matt Jones wrapped up a live broadcast of his show from the Sleep Outfitters Woodhill showroom. The store was packed from 10 a.m. to noon as Jones' fans sat on Sleep Outfitters' mattresses and listened to the host do his show, where Lexington Mayor Jim Gray appeared and discussed a planned $300 million renovation to Rupp Arena, home of the University of Kentucky Wildcats basketball team.
About Sleep Outfitters, Mattress Warehouse, Mattress King and Innovative Mattress Solutions.
Innovative Mattress Solutions, headquartered in Winfield, W.Va., operates more than 150 retail mattress stores under the Mattress Warehouse, Sleep Outfitters and Mattress King brands in six states: West Virginia, Ohio, Kentucky, Indiana, Tennessee and Alabama.
Founded in 1983 by CEO Kim Brown Knopf, the company and its team believe a restful night's sleep is the foundation of a healthy lifestyle. Their comfort and price promises help customers rest easy, knowing they have 120 days to make a change if they are not comfortable sleeping in their new bed.
For sleep tips, lifestyle motivation, and to learn about specials, visit and like Sleep Outfitters, Mattress Warehouse and Mattress King on Facebook and follow Kim Knopf's daughter, Karrie Knopf, at her Pillow Talk Blog.