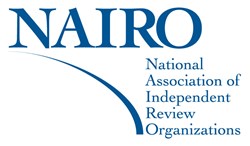 This informative Issue Brief seeks to clarify the rules and expectations regarding external review for health plans, consumers, independent review organizations and other aligned service providers. - Gib Smith, Executive Director of NAIRO
Portland, OR (PRWEB) February 14, 2014
Seeking to clarify the general uncertainty surrounding the launch of the Health Insurance Marketplace, the National Association of Independent Review Organizations (NAIRO) announces the release of a new Issue Brief that provides clarification on the external review processes available under the state and federal Marketplaces.
The Issue Brief, "External Review Options Available Under the Federal Facilitated and State Marketplaces," discusses the elements of federal external review options, including State-Based Exchange Review Program, Federal External Review Program (FERP), Multi-State Plan Program (MSPP) external review program, and the Pre-existing Condition Insurance Program (PCIP) external review program.
"A lot of confusion exists for all stakeholders involved in the external review process for programs available within the new Marketplaces," said Gib Smith, Executive Director of NAIRO. "This informative Issue Brief seeks to clarify the rules and expectations regarding external review for health plans, consumers, independent review organizations and other aligned service providers."
As background, when using Marketplace-related healthcare services, a consumer may have a claim denied, which means that a particular healthcare service is either not medically necessary or not covered by the consumer's health insurance plan. At this point, the consumer has the option to file an appeal. After exhausting the health carrier's internal appeals process, the appeal moves to external review. As required by law, external review is conducted by independent review organizations (IROs), which serve an essential function by guaranteeing expert, unbiased medical review of appealed claims.
With the Marketplaces expanding health coverage to millions of Americans, and offering an entirely new platform for providing and obtaining health insurance coverage, many questions about important regulations have gone unanswered. NAIRO's Issue Brief seeks to fill in the information gap with key guidance and insight for involved stakeholders.
Under PPACA, certain health plans must use IROs that are accredited by URAC or a similar nationally-recognized accrediting organization to manage their respective ACA Federal External Review Processes, including FERPs, MSPPs, and PCIPS. Within the healthcare industry, IRO accreditation is considered the gold standard for the companies providing external review services. Regardless of the venue, stakeholders within healthcare can utilize accredited IROs for internal and external appeals to ensure consistency, objectivity and accuracy when seeking medical review determinations.
The full Issue Brief is available here: http://www.nairo.org/news.php.
About NAIRO
NAIRO (The National Association of Independent Review Organizations) was formed by the majority of URAC-accredited IROs. The mission of NAIRO is to promote the quality and integrity of the independent review process at the internal and external levels. Utilizing the expertise of board-certified clinicians throughout the country, NAIRO members embrace an evidence-based approach to independent medical peer review, in order to help resolve coverage disputes between enrollees and their health plans. More information can be found at http://www.nairo.org.