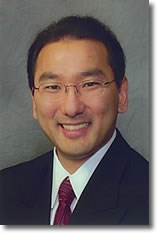 Fremont, CA (PRWEB) February 12, 2014
This February in honor of Gum Disease Awareness Month, Dr. Colin Yoshida alerts area residents about the Laser Assisted New Attachment Protocol (LANAP®), a new surgery that offers minimally invasive gum disease treatment. Unmanaged gum disease can lead to recession of the gum tissue and bone loss, leading to possible extraction of natural teeth. Laser gum surgery can prevent the advancement of gum disease that leads to tooth loss.
By leveraging advances in laser technology, Dr. Yoshida utilizes the PerioLase® MVP-7™ to identify diseased areas of tissue and vaporize them, leaving healthy tissue intact. Previous methods of treating gum disease led to the loss of healthy tissue along with the diseased tissue. The ability to offer gum disease treatment to Fremont patients in less time and with less discomfort is something that Dr. Yoshida takes seriously. Guarding against unnecessary tooth loss causes by treating periodontal infection is now possible thanks to the minimally invasive LANAP®.
For people who may already have missing teeth, the ability to successfully accept implants as a tooth replacement solution is dependent on the existence of enough healthy gum tissue and bone. This is further support for the importance of early gum disease treatment in Fremont. Recognizing the signs of gum disease can help people to seek treatment earlier and provide a better prognosis. Some symptoms include bleeding, redness or swelling in the gums or noticeable receding through the gum line.
Anyone who is concerned about gum disease as a serious tooth loss cause is invited to contact Dr. Colin Yoshida. His staff looks forward to helping all patients achieve the best in oral health as one means to improve overall health and wellness. Visit their website at http://www.fremontdentistry.com for more information and call their office at (510) 648-3184 for an evaluation.
About The Doctor
Dr. Colin Yoshida is a general dentist offering personalized dental care for patients in Fremont, CA. Dr. Colin Yoshida graduated from University of the Pacific School of Dentistry and is part of one percent of dental professionals providing the LANAP® FDA cleared laser procedure for gum disease treatment. To learn more about Fremont Dentistry and their dental services visit their website at http://www.fremontdentistry.com and call (510) 648-3184.