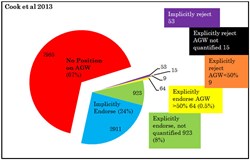 The stagnation in greenhouse warming observed over the past 15+ years demonstrates that CO2 is not a control knob on climate variability
Calgary, Alberta, Canada (PRWEB) February 13, 2014
"Judith Curry's January 16, 2014 testimony to the US Senate, reviewing the President's Climate Action Plan and global warming theory, is a model of sheer courage, backed up by solid scientific evidence," says Ken Gregory, research director of Friends of Science.
While mainstream media "global warming" stories abound and many climate change scientists and the EPA are still claiming carbon dioxide is a 'pollutant', courageous women like Judith Curry, Chair of the School of Earth and Atmospheric Sciences at the Georgia Institute of Technology, and a 30 year climate science veteran, take on the climate science establishment in a big way, say Friends of Science.
Curry boldly stated that "both the climate change problem and its solution have been vastly oversimplified." She rebuts comments in Presidential statements, wherein President Obama suggests that extreme weather events are evidence of impending doom with substantial scientific documentation showing otherwise. Curry's testimony concludes that carbon dioxide's (CO2) impact on the environment has been overestimated.
Curry's testimony refers to 'the pause' in global warming and its implications: "The stagnation in greenhouse warming observed over the past 15+ years demonstrates that CO2 is not a control knob on climate variability... Even if CO2 mitigation strategies are successful and climate model projections are correct, an impact on the climate would not be expected for a number of decades."
"Needless to say, such straight talk resulted in widespread condemnation from the old-boys network of climate science," says Gregory. "Some of them even called her anti-science."
Curry is not the only woman tackling the assumptions about climate science.
Australian science writer, speaker, author and blogger - Joanne Nova – continues to challenge the alleged 'consensus' with straight-talk. "JoNova's" blog carefully tracks previous catastrophic climate claims and matches them to observed evidence.
"JoNova doesn't mince words," says Gregory. "Her blog is a compilation of her original commentary on climate articles and issues, guest posts by climate science experts, news clippings and satirical cartoons. Her work sparks debate, which is the essence of scientific inquiry. She enjoys the challenge and provides an important forum for voices like expert William Kininmonth, who explains how Pacific trade winds affect climate, something you likely won't see in your local daily."
Canadian investigative journalist and author Donna Laframboise rounds out the troika of female climate "consensus" challengers. Laframboise embarked on a 2 year research mission to deconstruct the Intergovernmental Panel on Climate Change (IPCC). To her dismay she found it was not a body of the world's leading climate science experts, but an eclectic collection of a small number of credible scientists with a disturbingly large contingent of political and green activists.
Laframboise recently testified to the UK Commons Energy and Climate Change Committee. Laframboise' testimony, her books and blogs outline how the IPCC is far more political than scientific in nature.
"In each case, we have a female David facing a monolithic, largely male-dominated global warming Goliath," says Gregory. "CO2 is vital for life on earth, plants need it. Additional CO2 has enhanced crop yields by about 16% and makes our forests more productive. It is not a toxin or pollutant."
Friends of Science recent "deconsensus" report demonstrates that only 1 to 3% of scientists in the 4 major surveys explicitly agreed that more than 50% of the global warming since 1950 was caused by greenhouse gas emissions.
Friends of Science hold the position that the sun is the main driver of climate change, not you or CO2.
About
Friends of Science have spent a decade reviewing a broad spectrum of literature on climate change and have concluded the sun is the main driver of climate change, not carbon dioxide (CO2). The core group of the Friends of Science is made up of retired earth and atmospheric scientists.
Contact:
Friends of Science Society
P.O. Box 23167, Connaught P.O.
Calgary, Alberta
Canada T2S 3B1
Toll-free Telephone: 1-888-789-9597
Web: friendsofscience.org
E-mail: contact(at)friendsofscience.org