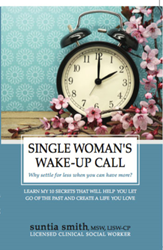 If I wanted to be happy, it was I who would need to change…change the way I thought of myself.
Greenville, South Carolina (PRWEB) February 14, 2014
A new book from author Suntia Smith, Relationship Expert and Coach, empowers women to make life-changing decisions that will help them LIVE the life they were MEANT to have.
"Too many women today are settling for less than they deserve. As a Relationship Coach I empower women to start creating a life they love," says Suntia Smith. She is the author of Single Woman's Wake-up Call: Why settle for less when you can have more?
Suntia Smith holds a Bachelor degree in Psychology, an Master degree in Social Work, and is an Licensed Independent Social Worker. She has built a successful coaching and therapy practice that specializes in helping women heal from broken relationships and create a life they love. Because of Suntia's personal life journey, she brings a unique "truth and realness" in her work with clients.
Suntia says, "I spent a big part of my life looking for love in all the wrong places, because of past experiences that caused me to feel insecure and confused about who I was. And because I didn't understand my worth, my relationships took a negative cycle of disrespect, dishonesty and disregard." Dr. Phil has said continuously that "we need to own, rather than complain about, how people treat us. Learn to renegotiate your relationships to have what you want." Suntia agrees with Dr. Phil and used his advice to build her strength to leave behind toxic relationships.
Suntia Smith says, "Walking away from 'Mr. Wrong' can be the hardest thing you ever do. However, doing so helps you rediscover happiness, and learn to love the most important person in your life - YOURSELF."
Whether it is emotional or physical abuse, celebrities like Rihanna, Halle Berry, Tina Turner and Britney Spears have been victims of toxic relationships. However, they overcame these relationships and became survivors. This is what Suntia wants for all her clients - to be survivors.
Smith says, "I wrote my book, Single Woman's Wake-up Call, to help others break the shackles that are holding them hostage in life. It's a step-by-step account of what worked for me, with the exact same exercises, affirmations, and action steps I took to break the negative patterns that were holding me hostage." 'Single Woman's Wake-up Call' is your newest (best) portable & patient friend."
The book includes:
1. The one (hard) question you MUST ask yourself every single time before you make an important life changing decision.
2. Simple exercises, affirmations, and action steps to STOP exhaustion and frustration along with a Companion CD.
3. Real life experience, practical advice, and tools.
4. A 4-Step blueprint to self-reflect, energize, and elevate your everyday experiences.
5. Step-by-step secrets to pull you out of the same mindset and into a lifestyle that you enjoy.
"We need to stop pretending okay is good enough. No more shoulda, woulda, couldas," says Smith. You can have it all! The bigger question is: Do you want It? To learn more about Suntia Smith's work, participate in Q&A Wednesdays and read her relationship advice, visit http://suntiasmith.com/.