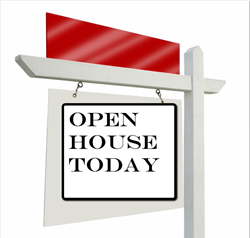 Easy, quick, and all-in-one stop for upcoming open houses
Virginia Beach, VA (PRWEB) February 14, 2014
Now searching for Virginia Beach Open Houses is one click away. This web page offers one-stop shopping to find upcoming dates, addresses, and details for upcoming open houses in Virginia Beach. Potential buyers no longer need to search multiple websites or the newspaper to find properties to view.
There are many benefits to buyers visiting open houses including:

Buyers can compare homes they are viewing. Take notes and remember features liked. (floor plans, kitchen, upgrades, future maintenance, etc.)
View all features in the house including appliances (newer or older), storage (closets and other), Tour the outside of the property viewing from many different angles.
Tour the neighborhood and view other homes. Does the neighborhood project a good image of somewhere desired to live?
What schools are nearby and their reputation?
Talk to your Buyer's Agent before attending any Open Houses. The agent sitting at the house represents the seller and not the potential buyer. It is strongly recommended you have a Buyer's Agent and know how they can help and protect buyers. (Read all about Buyer's Agent's here). Often, the Buyer's REALTOR® can get advance information and other "tidbits" that might not be available to the public.
Should a particular Open House peek interest, ask the buyer's agent to provide recent comparable sales information for the neighborhood and any potential incentives the seller may be offering. This will provide valuable data should a purchase offer (contract) be considered in the future.
If desired, the potential can sign-up to receive daily email notifications of upcoming open houses. Most new real estate buyers can simply bookmark the page and return when convenient.
Also, it is very important that the buyer or seller considering a transaction of a home or condo consult an Agent to represent their interests. The buyer's agent will write the contract and other addenda to ensure no details are overlooked that might harm the buyer.
For the new buyer, the Buyer's Agent can provide financing alternatives, provide objective data about the area and other homes for sale, explain home owner association documents, negotiating expertise, solve issues that may arise with builders, coordinate inspections, provide periodic on-site visits and updates on the construction process (and pictures), and ensure that a smooth and problem free closing occurs.
.
Using the Virginia Beach Open Houses website is an easy, no-hassle way to browse homes and communities. It is available now for viewing.
Dennis Blackmore, REALTOR® with Creed Realty, Virginia Beach, VA provides Buyer and Selling Agent services to home and condo owners. He is a ready resource for all real estate matters.