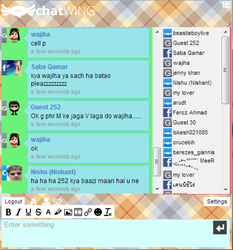 Boston, MA (PRWEB) February 15, 2014
Chatwing has just released its Android version of the chat software in the Google Play Store. This is one of the newest advancements of Chatwing chat software which now lets their users access the chatroom via their mobile phones. This move by Chatwing chat app is intended to target users who are always on the move so that they will still be able to communicate with their chatters no matter where they are.
The new chat app has these features to offer:

Right after installation one can instantly start chatting by choosing one of the two default chatboxes available – ChatWing and Default Chatbox.
There's no need to register an account to join in – one can use their social media accounts to do so. The user can choose to join in using their Facebook, Twitter, Google, Yahoo, Tumblr, Instagram and Chatwing accounts.
It is possible to create a new chatbox. One only needs to sign in using a Chatwing account to do so. The new chatbox will be saved on the Bookmark tab, along with the other chatboxes the user might have bookmarked as well. As the creator of the chatbox, the user can delete the messages inside it if he wants.
The users can easily search for chatrooms by using the search bar. They'll only need to type in the name of the chat box and they can access it immediately. A user can invite his or her friends to his personal chatbox by using this feature.
As of now, new features are being implemented on this app. And just like the original chat software, this app is also free.
About Chatwing.com
Chatwing.com is a company that has brought innovation to the modern chat widget. Operating for more than five years now, Chatwing and its team of developers have dozens of ideas ready to be introduced to the public. The Chatwing chat app is an easy-to-use online tool that can help web users interact with each other and can also generate continuous traffic. Chatwing will always be a "freemium" application for everyone.