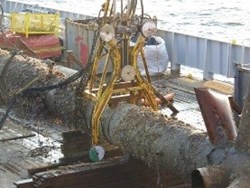 Greenville, AL (PRWEB) February 18, 2014
Bluegrass Offshore, a worldwide leader in the offshore decommissioning industry, will be featured as a Lead Exhibitor at the 6th Annual Decommissioning and Abandonment Summit in Houston, TX, March 10-12, 2014.
The 2014 D&A Summit will feature interactive workshops and panel discussions addressing floating facility, imminent deep water and large structural abandonment challenges, keynote updates from many associations and industry leaders, as well as more than 700 international and domestic decommissioning decision makers from large-named oil companies.
Over the past 30 years, Bluegrass has had the opportunity to work with many of the decision makers from oil refinery companies including: Chevron to aid hurricane remediation efforts, ConocoPhillips, BP, Citgo, ExxonMobil, Southern Natural Gas, Williams Pipeline and Texas Eastern. A large percentage of these projects have included the use of Bluegrass' exclusively patented technology with offshore diamond wire sawing.
During the Summit, visitors will be able to discuss the diamond wire sawing solutions that Bluegrass has to offer, as well as take a look at a model saw. The patented diamond wire saws are custom-designed to cut anything, of any configuration, to depths of -4,000 ft. Offshore decommissioning cutting technology can be hydraulically powered from a platform or barge, or installed and powered by working-class ROV's at any depth desired.
Because of its success, superb safety and environmental credentials with diamond wire sawing solutions, Bluegrass has become a valuable asset to the oil refinery industry, as well as DecomWorld.
ABOUT BLUEGRASS
Recognized as a global leader in the diamond wire saw industry, Bluegrass Offshore has successful operations domestically as well as internationally including Egypt, Malaysia, Azerbaijan, Puerto Rico, Indonesia, and Australia. Bluegrass is committed to meeting customer requirements and exceeding customer expectations. With 48-hour mobilization capabilities, excellent safety record and credentials, Bluegrass ensures that time-sensitive projects will be completed professionally and efficiently.
info(at)bluegrassoffshore(dot)com
1-800-320-1462
WE CUT IT. WORLD CLASS. WORLDWIDE.