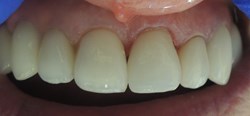 Fountain Valley, CA (PRWEB) February 14, 2014
Dr. Robert Mokbel is supporting American Heart Month this February by raising awareness of the connection between gum disease and heart disease while offering patients treatment options tailored to their needs. Dr. Mokbel encourages patients who notice gum disease symptoms such as inflammation, bleeding, and pain to schedule an appointment to determine whether they need periodontal treatment to protect their oral and general health.
Many people are familiar with the oral health problems that periodontal disease causes, but they are not as aware of the other serious health risks that are related to gum disease. Studies have found that people with periodontal disease have a greater risk of developing a number of chronic conditions, including heart disease, stroke and certain cancers. Dr. Mokbel advises his patients to have a thorough evaluation and establish a treatment plan for both the prevention and the treatment of periodontal disease.
The nature of the relationship between gum disease and heart disease requires further study, but there are theories on how the conditions may be connected. Research by Irish and UK researchers has indicated that the Streptococcus bacteria that cause gum disease may cause blood platelet clumping after entering the blood stream. These platelet clumps protect the bacteria and can lead to clots or inflammation, which can increase the risk of arterial blockage and cardiovascular problems. If this theory proves correct, people who receive periodontal treatment and eliminate these bacteria could significantly lower their risk of heart disease.
Dr. Mokbel encourages patients to practice good oral hygiene habits and pay close attention to any changes in their oral health. Symptoms of gum disease should be taken seriously. Patients who pursue periodontal treatment early may reduce the many health risks, including heart disease. Anyone who needs more information on periodontal disease symptoms or periodontal treatment options should visit Dr. Mokbel's website or call his office today.
About the Doctor
Robert Mokbel, DDS is a prosthodontist offering personalized laser and implant dentistry for gum disease patients in Fountain Valley, CA for over 28 years. Dr. Mokbel received his Prosthodontic degree in Paris, France where he did four years of research in prosthetics and in occlusion and attended periodontology training as well. He then arrived at USC where he taught prosthetics since 1983. He is part of one percent of dental professionals providing the LANAP® FDA cleared laser procedure for gum disease treatment. To learn more about Robert Mokbel, DDS and his services visit his website at http://www.scdentalimplants.com and call (714) 905-5335.