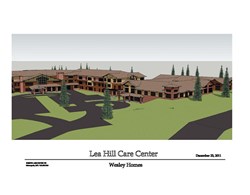 My dad worked hard and contributed to society; he shouldn't have to live in an institutional nursing care environment.
Auburn, WA (PRWEB) February 17, 2014
Thanks to the support of the greater community, Wesley Homes has reached the $1 million mark of the $2 million campaign to build a much-needed, state-of-the-art Health Center and complete the Lea Hill retirement campus. The new $6.6 million center will feature skilled-nursing services and post acute care provided in 36 private suites, greatly enhancing the spectrum of care available to residents of Auburn and South King County.
Too often, older adults and their families must contact multiple providers for varying types of senior services. Wesley Homes' continuum of care concept includes a complete range of senior housing and care services in a single location. A continuum of care community ensures accessibility and delivery of appropriate services as an older adult's housing and care needs change.
"Mom was in eleven different places her last six months because of her health needs and the lack of care options offered in our community. With each move, her health declined. We need a better system." – Sue Singer
The private suites design will allow patients, their caregivers, family and friends while visiting to engage in conversations and experience quiet times without the unavoidable distractions that occur in a shared-room environment. The privacy and dignity provided in the new Health Center will be distinctive in a skilled-nursing facility, especially one that is not-for-profit and affordable.
"My dad worked hard and contributed to society his whole life; he shouldn't have to live in an institutional nursing care environment because he isn't wealthy. What's available to middle income seniors today is unacceptable." – Jeani Rottle
The Lea Hill Health Center will be certified under the Medicare and Medicaid programs, with RNs, LPNs and Nursing Assistants providing 24/7 care under the supervision of the resident's physician. The center will feature a configuration of living areas into two "neighborhoods" of 16 to 20 individuals, with shared living space and kitchens, staffed by personal caregivers.
For current residents of Wesley Homes Lea Hill there are advantages to having easy access to an on-site health center. In cases where one spouse is in need of long-term care, having the center nearby will ease the burden on the other spouse and make visitations convenient. In addition, residents who are recovering for a short term after a hospital stay would be close to home.
These services will also be available to all residents of Auburn and the surrounding communities for rehabilitation and short-term or long-term care. Estimates are that up to 80% of the people who will use the new Health Center will be from the greater community.
A key component of the new Lea Hill Health Center is the Physical Therapy Suite, where professional therapists will provide rehabilitation services to help short-term patients recover from surgery, illness, or injury as well as provide maintenance of overall health for chronic conditions or longer-term patients.
Wesley Homes Lea Hill, which opened in 2007, is Auburn's newest retirement community. Philanthropy played a major role from the beginning, with the partial donation of 19 acres of land. As with other not-for-profit organizations, Wesley Homes must depend upon its partners and generous supporters in the community to fund major capital projects. By securing 30% of capital expenses ($2 million) from private and public sources, Wesley Homes can leverage otherwise absent dollars to finance the new $6.6 million state-of-the-art center. For more information about the Lea Hill Health Center campaign, please contact Sten Crissey in the Wesley Homes Foundation at 206-870-1126.
Wesley Homes is a not-for-profit organization celebrating its 70th year in operation and is affiliated with the Pacific Northwest Conference of the United Methodist Church. Wesley Homes provides a network of housing and health care services for older adults, including retirement communities in Des Moines and Auburn plus in-home care and a Medicaid/Medicare licensed home health care agency serving people in King and Pierce counties.