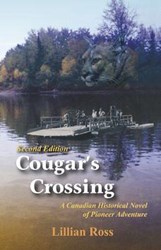 (PRWEB) February 18, 2014
The real story of Frank "Cougar" Wright in Cougar's Crossing tells of a loud, brash, and irreverent pioneer to the Canadian Northwest who came from Wisconsin and the forests of Washington. Cougar swore like a trooper, and didn't believe in a higher power than his own strength. He loved his family and wanted them to join him in his struggle to tame the Canadian wilderness. His story is filled with romance, adventure, and even a ghost!
Watch the video at: http://www.youtube.com/watch?v=0l8R0HkjRxY&feature=youtu.be.
About the Author: Lillian Ross earned a bachelor of education from the University of Alberta and taught for many years before retiring to pursue her writing. Her husband, Reg, and their two sons lived in Northwestern Alberta and worked in the oil fields. She and her husband played in a dance band. She now sings and plays guitar with a women's band called The Hinge. Her other historical novels are The Gentle Gamblers, The Tender Years, A Full House, Mewassin: The Good Land, and Gandy Dancer.
COUGAR'S CROSSING – A CANADIAN HISTORICAL NOVEL OF PIONEER ADVENTURE: SECOND EDITION REVISED (e-Book ISBN: Kindle ISBN: 978-1-62857-301-5, ePub ISBN: 978-1-62857-302-2) is available for $9.99 at http://epubco.com/shop/products/cougars-crossing-a-canadian-historical-novel-of-pioneer-adventure-second-edition-revised-by-lillian-ross/# or
Amazon Kindle: http://www.amazon.com/Cougars-Crossing-Historical-Adventure-ebook/dp/B00EV558U2/
Barnes & Noble Nook: http://www.barnesandnoble.com/w/cougars-crossing-lillian-ross/1116795185
and in multi-formats for other e-Readers through numerous vendors online.
Strategic Book Publishing and Rights Co, LLC