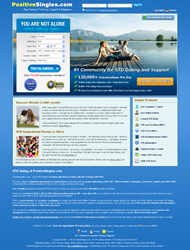 Los Angeles (PRWEB) February 19, 2014
PositiveSingles, the favorite among those who have sexually transmitted diseases, has released the findings from January's "Hot Topic" discussion. In an effort to engage the community and keep members informed of the latest information regarding STDs, PositiveSingles.com offers its members an interesting and informative topic for debate each month.
In January of 2014, the Hot Topic up for discussion was which home remedies the members have found useful for limiting herpes. Various home remedies were mentioned, such as using a cool tea bag, Epson salt baths or apple cider vinegar, to help ease the discomfort during the times when the symptoms of herpes flare up.
After counting the responses, PositiveSingles announces that 34.51 members use the herb Echinacea to treat a herpes outbreak. Although there is no clear evidence to prove that Echinacea offers any benefits to treat herpes, many members report it being useful in reducing the length of a cold and the severity of their herpes symptoms. One anonymous member stated, "It speeds up the healing process."
PositiveSingles also found that 21.34 percent of its members used baking soda for relief from the pain and discomfort of herpes. Baking soda is clean and absorbent and helps to dry out the moist or oozing lesions, making them disappear quickly. "I'm having good results in controlling herpes outbreaks. It's the best thing I've tried so far," said one PS member.
The Hot Topic of the month also revealed 19.32 percent of the members liked to use aloe vera to treat herpes outbreaks. Ancient people found it to be useful in healing skin and it can help to ease the pain from herpes by promoting quicker healing. "It's very cool when I smear it on the sores," one PositiveSingles member reported.