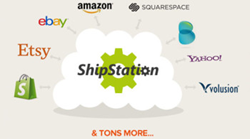 "The two systems really complement one another -- they're both cloud-based, and when used in combination, they make the pick, pack and ship process super smooth."
Austin, TX (PRWEB) February 24, 2014
ShipStation, the leading web-based e-commerce shipping solution, announces a strategic partnership with SkuVault, a cloud-based warehouse management system for e-commerce merchants.
Through this partnership, merchants who use SkuVault's inventory management system can access shipping rates and generate shipping labels across all accounts (including barcoding), and can consolidate order information and tracking.
"It's been great working with ShipStation," notes Andy Eastes, CEO and Co-Founder of SkuVault. "Our integration allows pushing locations and pulling orders from ShipStation into SkuVault. The two systems really complement one another -- they're both cloud-based, and when used in combination, they make the pick, pack and ship process super smooth."
This partnership continues ShipStation's aggressive partnership strategy. "We continue to add new connections and partnerships in response to our customers' needs. It's our goal to democratize e-commerce for every entrepreneur and warehouse tools like SkuVault are part of that mix," says ShipStation's Vice President of Marketing, Robert Gilbreath.
About ShipStation
ShipStation is the leading web-based shipping software that is built to help online retailers organize and process their orders, while fulfilling and shipping them quickly and easily. With automatic order importing from over 40 shopping carts and marketplaces, including eBay, Amazon, Squarespace, Shopify, Bigcommerce, Magento, ChannelAdvisor, and more, and automation features like custom hierarchical rules and product profiles, ShipStation helps online retailers ship out their orders from wherever they sell, however they ship. For more information, visit http://www.shipstation.com.
About SkuVault
SkuVault is a warehouse management system that integrates with ShipStation, ChannelAdvisor, Amazon, Shopify, Bigcommerce, and more, and is complete with barcoding and jam packed with other cool features to help eCommerce retailers prevent out of stocks, improve warehouse efficiency, and reduce human error. Use SkuVault to unlock the potential of your inventory. For more information, visit http://www.skuvault.com.