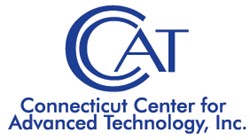 The program provides each Connecticut manufacturing company with an opportunity to take advantage of CCAT's Advanced Manufacturing Center expert staff and cutting-edge manufacturing technologies.
East Hartford, Conn. (PRWEB) February 19, 2014
Connecticut Center for Advanced Technology, Inc. (CCAT) announced the award of three grants, made possible under the State of Connecticut Manufacturing Technical Assistance Program (MTAP), to Connecticut start-up companies New Ortho Polymers, Inc., SolVilla Energy, Inc., and LambdaVision, Inc.
The grants, ranging from $30,000 to $50,000, fund applied research and development of prototype parts and associated fabrication methods and manufacturing processes.
"CCAT is pleased to be able to support these three manufacturers under the state-financed Manufacturing Technical Assistance Program," said Elliot Ginsberg, CCAT president and CEO. "This program provides each company with an opportunity to take advantage of CCAT's Advanced Manufacturing Center (AMC) expert staff and cutting-edge manufacturing technologies – unique resources that are usually more difficult for smaller manufacturers to afford."
According to Bob Torrani, AMC director, CCAT's program is designed to aid companies with the application of advanced technologies for existing process improvement and manufacturing process development. CCAT will also provide on-site support for technology transition when it applies.
Grant recipient New Ortho Polymers, Inc., a UConn Ventures company, plans to tap CCAT's expertise and the assets of the AMC for making molds and a pultrusion die for the production of clear filaments used for orthodontic braces.
"The grant will enable us to experiment with processes to increase production speed as well as test die designs that may impact product design," said Gloria Kolb, director of development at UConn Ventures. "The project may allow us to come out with a full range of sizes for final production."
For CCAT incubator company SolVilla Energy, Inc., CCAT's new 3D plastic printer technology system – the first installation of its kind worldwide – will be used to develop plastic tooling necessary to properly assemble and solder individual elements to form a string of photovoltaic (PV) cells used to produce a solar energy roofing shingle. CCAT will also provide lab space and technical assistance for the lamination of the shingle.
"I'm thrilled to be working with CCAT on this project because of their expertise and manufacturing technology," stated Bob Byron, president, SolVilla Energy. "The value to SolVilla Energy is being able to build a product and have a prototype to demonstrate to potential solar energy customers."
"In addition, we will have lab space at the AMC, which is critical as it allows us to set up and operate our machine. Without this funding, our product rollout would be delayed by at least six months," he said.
The commercialization of a protein-based, high-resolution retinal implant to restore vision for people suffering from age-related macular degeneration (AMD) and retinitis pigmentosa (RP) is the goal of award recipient and UConn Ventures company, LambdaVision, Inc. Under the MTAP award, CCAT will assist with machining plastic components of a prototype surgical tool, machining a metal die to produce the retinal implant shape, and conduct laser cutting evaluations as an alternative to a metal die. In addition to the AMC machining equipment, CCAT's 3D plastic printer will be used.
"With the support from MTAP we now have access to a variety of advanced machinery and manufacturing expertise that we would not have otherwise had," said Nicole Wagner, CEO, LambdaVision. "As a small startup company, having resources like those provided by CCAT's AMC allow us to move quickly into in vivo studies of our protein-based retinal implant."
Under the Manufacturing Technical Assistance Program, CCAT and the University of Connecticut's Office of Economic Development each receive funding to support company projects based on the specific needs of each organization. In reviewing applications, particular emphasis is placed on how a company's project enhances manufacturing operations in Connecticut, including retention of revenue, jobs or company growth.
"The intent of MTAP is to give innovative, small manufacturers like New Ortho Polymers, SolVilla Energy, and LambdaVision access to technology that they could not otherwise afford," stated Ginsberg. "At CCAT, we are proud to be part of the program and use the resources of the AMC to help these companies compete and grow in today's global market."
ABOUT CCAT
The Connecticut Center for Advanced Technology, Inc. (CCAT), a unique economic development organization headquartered in East Hartford, Conn., leads partnerships between industry, academia and government, creating a collaborative framework for tackling today's economic challenges. CCAT combines expertise in cutting-edge manufacturing and information technology with specialized centers of excellence in education and workforce development and alternative energy solutions to help organizations increase efficiencies, compete and succeed.