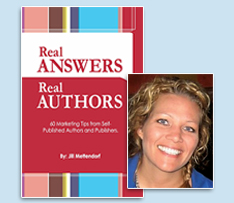 There is no better marketing advice than to hear directly from authors as to what they are doing to promote their books.
St. Louis, MO (PRWEB) March 19, 2014
Jill Mettendorf, Senior Publishing Consultant at Mira Digital Publishing, has been working with self-publishing authors for seven years. In this time, she has worked with and talked to thousands of authors. In her experience, the questions she gets asked the most are about marketing.
In order to fully experience what her authors were going through, Jill decided to write a book of her own. She began to collect marketing tips and advice from authors who have been successful in self-publishing. She ended up with an unmatched collection of what works, what doesn't work, and things to try.
In Jill's book, readers will find advice such as the following, from author and publisher Jennifer Salmassian Khodadi: "I call local schools and speak to librarians or academic directors. We arrange a day for a book read, and then I leave fliers for purchase orders and sell the books with an autograph. I donate back to the school 20-30% so that we both win."
Another insider tip, from author and publisher Katrinka Moore: "For books of poetry of my own, I set up readings with different poets to celebrate the publication of my book. That way I get audience members who may not know me and some of them will buy the book. I keep copies on hand to take to any readings I'm involved in."
As Jill went through the process of writing, editing, laying out text and cover, purchasing an ISBN, getting the work copyrighted, having the book printed, creating an ebook, and marketing her very own book, she became better able to mentor the authors she worked with. She has been chronicling her challenges, successes, and lessons learned in her blog.
Before her career in publishing began, Jill studied Visual Communications at the Illinois Institute of Art. She is currently self-publishing and documenting her step by step process for beginning authors.
For more information on Jill Mettendorf, self-publishing, or to order a copy of the book, please visit http://www.realanswersrealauthors.com. Also online at Facebook, Twitter and LinkedIn.