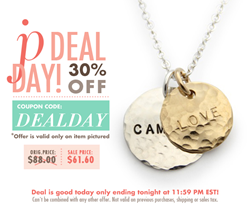 St. Louis, Missouri (PRWEB) February 18, 2014
Originally priced at $88, this hand stamped necklace can be purchased today for only $61.60, until 11:59 PM EST.
The Hammered Name Necklace includes a silver pendant and gold pendant with a customizable text option. Incorporate birth dates, monograms, first initials, symbols, or children's names to make this necklace unique. Additional pendants, colorful gemstones, and beautifully crafted charms allow even more personalization for this hand stamped jewelry.
Each piece of jewelry designed and produced by jenny present® is carefully crafted with quality materials. The hand stamping technique creates a distinctive vintage-meets-modern look. This gradual process ensures that every piece is one of a kind.
It's never too early to start thinking about Mother's Day gifts, birthday gifts, or anniversary gifts. This year, make loved ones feel extra special with the gift of personalized mother's jewelry that they will cherish for years. Celebrate mothers today, with the Hammered Name Necklace, on sale for only $61.60 until 11:59 PM EST.
About jenny present®
jenny present® is a personalized jewelry business based in St. Louis, Missouri. The force behind the company—in both name and spirit—is jewelry designer Jenny Present. Her life took a difficult turn years ago, but through perseverance and creativity she overcame the challenge and started the company in 2008. With a growing number of retailers, a strong online e-commerce presence, and loyal customers (ranging from "a-list" celebrities to hardworking moms), jenny continues to bring more and more beautiful, unique jewelry to women worldwide. jenny present® has become well known for elegant jewelry with a unique style and a brand built on empowering women to overcome all odds. For more information, please visit http://www.jennypresent.com.