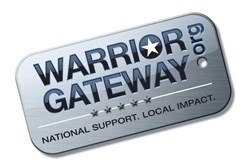 We are proud to highlight America's Bravest 1% with our new PSA and to continue to support them as they come home.
Arlington, VA (PRWEB) February 18, 2014
Warrior Gateway, in partnership with Grazie Media, is planning the launch of its new PSA "America's Bravest 1%" at NASCAR's Daytona 500 on February 21 - 23 in Daytona Beach, Florida. The award-winning nonprofit plans to premiere the new PSA on Friday and will continue to air it throughout the weekend to bring awareness to Daytona 500 attendees about the veteran and military family community. Fresh Level Productions, a video production company based in Chesapeake, VA, produced the 60 second video, which will promote both Warrior Gateway and Military Family Gateway, the premier virtual community centers for the veteran and military family community.
"Our new 'America's Bravest 1%' PSA highlights how we are connecting our veterans and their families with a growing community of support," said Devin B. Holmes, Warrior Gateway's CEO. "These best in class virtual community centers provide access to our G.I. Network of over 200,000 nonprofit organizations and show how our nation continues to support those who have served."
The 200-lap Daytona 500 race on Sunday concludes a weekend of NASCAR events at the Daytona International Speedway. Warrior Gateway's presence at this historic event will continue to strengthen national focus and support for the military community. NASCAR's 56th annual Daytona 500 helps Warrior Gateway connect with Florida's military community while also generating awareness about the unique needs of service members, veterans and their families. The America's Bravest 1% PSA will be available after Friday's premier on Warrior Gateway's YouTube channel http://www.youtube.com/warriorgateway.
About Warrior Gateway™
Founded in 2009, Warrior Gateway connects service members, military families, wounded warriors, families of the fallen and our nation's veterans with government and non-profit programs in their local community. Warrior Gateway harnesses state-of-the art technology and community collaboration to help today's military community make better decisions about what service provider they can go to for help. Their programs provide a public forum where people can share their experiences about the quality and effectiveness of those services. In 2011, Warrior Gateway's efforts were recognized with the Federal Computer Week Fed-100 award for significant contributions to the Federal IT community and in 2012 with a ComputerWorld Honors Laureate for our innovation in creating an open-source platform for information sharing. A proud partner of the Got Your 6 campaign, Warrior Gateway works to bridge the civilian-military divide with non-profit and government partners. Warrior Gateway is an IRS registered 501(c)3 organization. For more information, please visit: http://www.warriorgateway.org.
About Grazie Media:
Grazie Media Inc. is one of North America's leading media companies. Operating on a growing media platform, Grazie Media offers outdoor display advertising, digital commercial production, mobile app development, and the planning of marketing of worldwide campaign initiatives. Grazie Media Inc. plays a central role in offering its diverse services locally and over-seas. It is recognized for providing some of the highest attended U.S event markets with captivating, distinct, and interactive outdoor digital programming. To learn more about Grazie Media, visit http://www.graziemedia.com.