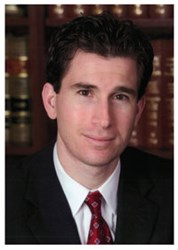 Being an attorney is the only job I ever wanted to have.
Charlotte, NC (PRWEB) February 18, 2014
Through a rigorous selection process, the National Academy of Personal Injury Attorneys (NAOPIA) has chosen attorney Brad Balaban to be honored as a Top 10 Attorney Under 40 in North Carolina. Brad Balaban was chosen to receive this award because he continuously and successfully demonstrates an extraordinary amount of knowledge, skill and expertise in the field of personal injury law.
The NAOPIA is an organization devoted to recognizing the top personal injury attorneys in the nation. Less than one percent of attorneys in the country receive this prestigious honor.
"Being an attorney is the only job I ever wanted to have," said North Carolina injury attorney Brad Balaban. "I'm fortunate to be able to practice in this field of law with an outstanding group of lawyers who truly care about the people they represent. Being named a Top 10 Attorney Under 40 is just the icing on the cake."
About Brad Balaban
Admitted to practice in Virginia, North Carolina and the District of Columbia, Mr. Balaban graduated from Pennsylvania State University's Dickinson School of Law in 2002. He earned his Bachelors of Arts in Political Science and History from the University of North Carolina at Chapel Hill.
Mr. Balaban's clients include those who have been seriously injured in North Carolina car, truck and motorcycle accidents and from slip-and-fall, dangerous products, dog bites and other causes.
About Marcari, Russotto, Spencer & Balaban, P.C.
Marcari, Russotto, Spencer & Balaban assists clients who have been seriously injured by the negligence or carelessness of others. Hundreds of clients have received legal representation resulting in successful resolution from the firm's legal team. The firm's practice areas include:

Auto accidents
Wrongful death
Slip and fall
Motorcycle accidents
Dog bites
Veterans disability benefits
The attorneys of Marcari, Russotto, Spencer & Balaban have a combined 150 years of litigation experience. The firm is AV(R) Preeminent(TM) Peer Review Rated(SM) by Martindale-Hubbell(R), a prestigious honor demonstrating the very best ethical standards and legal ability.
For more information about the firm, go to http://www.HandleTheTruth.com or call (877) 975-2000.