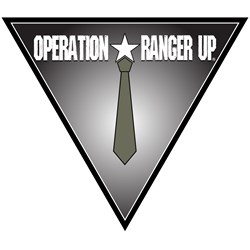 Small business is the driving force behind our economy and veterans succeed at it more than anyone because they come from a world where failure isn't an option.
Durham, NC (PRWEB) February 19, 2014
Ranger Up, the fast growing North Carolina-based apparel company owned and operated by veterans of the United States Army Rangers and Special Forces, recently launched a crowdfunding effort on indiegogo.com to support their successful Veteran Entrepreneurship operation. The program is a dynamic and unique effort to provide business training and seed investment to veterans interested in running their own business.
Recently recognized by Internet Retailer as one of the Hot 100 e-commerce firms in the United States, Ranger Up began in an apartment just seven years ago by a duo of veterans intent on providing the military community with a unique apparel brand they could be proud of. Now with a Facebook following of over 250,000 and millions in annual revenue, Ranger Up is equally focused on paying forward its success by working with and investing in the business ventures of other veterans.
"Engaging veterans in entrepreneurship is good for society," says Ranger Up Founder and CEO Nick Palmisciano. "Small business is the driving force behind our economy and veterans succeed at it more than anyone because they come from a world where failure isn't an option. They are used to having a mission they have to complete."
Palmiciano's belief in veteran business acumen was affirmed during the launch of the initial Ranger Up entrepreneur, Jon Walsh, who successfully launched a mixed martial arts training gym with the mentorship and investment capital of the company. Walsh, a former Force Recon Marine, is now the proud owner of Five Rings MMA, a fast-growing mixed martial arts gym in the greater Camp Lejeune area.
While Ranger Up loves the program and is inspired to continue it, hopefully at a larger level, Palmisciano admits the program has a cost. In the case of Walsh, that pricetag was over $100,000.
"We have so much knowledge to share, but at our revenue size, the program isn't sustainable on an annual basis," Palmisciano says. "We're left with a choice; do it every two years or look to our community for support. So we're asking for help."
In order for the Veteran Entrepreneurship program to expand and continue without hindering Ranger Up's growing business, Ranger Up is turning to both the public and its loyal customer base to support the next addition to the program. Costs of full-time employment for the selected veteran during business training and the additional seed capital that will launch the new company are expected to exceed $100,000 once again.
A five-minute video featuring Palmisciano and Walsh explaining the program has been posted to indiegogo.com at igg.me/at/rangerup where supporters from around the world will have the opportunity to contribute to making another year of the Veteran Entrepreneurship program a reality.
"I had a hundred percent drive and zero percent direction," said Walsh of himself once he left active duty military service and began thinking about starting his own company. "Ranger Up took me start to finish and taught me how to run a business successfully from bookkeeping to operations."
Ranger Up is based in Durham, N.C., where a team of mostly veterans oversee every aspect of one of the fastest growing apparel companies in America. Palmisciano and Amenta share ownership in Ranger Up with decorated UFC fighter Tim Kennedy, who is a Ranger qualified Special Forces Operator. For two consecutive years Ranger Up has ranked within the Top 1000 e-commerce sites on the internet. For more information on Ranger Up, patriotism, and veteran entrepreneurship, visit http://www.RangerUp.com.