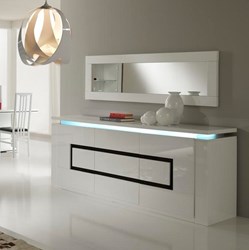 (PRWEB UK) 19 February 2014
The largest growing furniture retailer in UK has declared record online sales. In this dot com world of today, where everything is just at a click's distance, FurnitureInFashion's announcement does not come as a surprise. Consumer buying patterns have changed with the growth in internet and online shopping has strongly flourished.
The rising furniture sales in UK can be attributed to ascending housing market. Retail sector showed slow growth last year because of fragile consumer confidence. But 2014 started on a good note for the retail sector and most of the retailers are pretty hopeful of this year being a year of high growth. Centre for retail research has forecasted a growth of 3.4% in retail sector this year.
The online sales in UK touched the sky and soared high during Christmas and New Year's. FurnitureInFashion, the online furniture retailer, showed a tremendous rise during that period. Online sales generally have increased due to the ease of ordering and selection process. This has given the furniture retailer an added advantage, since people are now used to selecting furniture online. 63% of retailers in UK said that internet sales were up in 2013 and are expected to grow at the same pace this year too. 72% of the retailers in UK sold their goods online which is a welcome change in the consumer buying pattern.
Online selection and ordering has lured many customers to the furniture company's website. The company's great customer service and free delivery has added to the delight of customers. The number of satisfied customers of the company keeps on growing rapidly as the company remains dedicated to resourcefulness in its approach to improve quality and continued future growth in providing the latest contemporary furniture. The online furniture store prides itself in being classy and trendy furniture provider across UK and other countries in Europe.
FurnitureInFashion is a rapidly growing company that provides high quality products at affordable prices to its customers. The attractive discounts and sales have added to the overall sales of furniture at the company.
With the increase in sales in January at the furniture house, employees are ecstatic and believe that this trend will continue for months to come in 2014. The company to stay in vogue offers different collections of furniture at affordable prices. It has a wide array of products which helps customers get a variety to choose from. The quality is ensured from the very beginning as it works with suppliers who provide high quality raw materials. This New Year has brought happiness to the online furniture company and the growth in sales is expected to continue with full flow.
To have a look at quality affordable furniture online and to place a pre-stock order, please visit the company website today at http://www.furnitureinfashion.net. The range of home and office furniture on the website is huge, delivery is fast, savings are massive and quality is guaranteed.