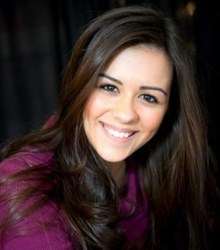 "The model competition is so exciting because the winner actually gets an amazing opportunity to work as a Terry Costa model for the next year, which opens lots of doors in the fashion world. It means an actual JOB as a model." - Kristyn Huckeba
Dallas, TX (PRWEB) February 20, 2014
Sunday, February 23rd at 7:30PM, Terry Costa will showcase their 4th Annual Teen Board Prom Fashion Show and Model Competition. Terry Costa is challenging models to hit the runway and become the next Terry Costa Model Challenge Winner.
Models will strut their stuff for Jan Strimple, Lorren Bell, and Erica Annise, three prominent members of the Fashion Industry. The winner will be chosen based on the combination of the judges' scores and popular vote.
One Lucky Winner will be presented with an exciting prize package including: A $1,000 Scholarship, a $500 Gift Certificate to Terry Costa, model on behalf of Terry Costa at Special Appearances, and have their professional head shot sent to Celebrity Designer, Sherri Hill for consideration as a print or runway model.