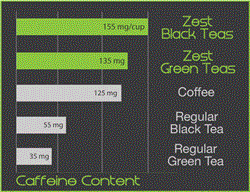 Philadelphia, PA (PRWEB) February 20, 2014
Philadelphia resident and young entrepreneur James Fayal is looking to make his mark with an energizing new product.
Fayal's Zest Tea company has developed a line of high quality teas that have as much caffeine as coffee without the unwanted side effects.
Fayal came up with the idea for Zest Tea while working as a financial analyst. He preferred tea to coffee, but couldn't find a traditional tea with enough caffeine to keep him alert throughout the day. That's when he started developing blends himself. After months of trial and error, Fayal created a series of blends that have as much caffeine as a normal cup of coffee—about three times as much caffeine as regular black teas.
Fayal explained he "wanted to increase the energizing caffeine punch, but not at the expense of quality, that's why we start all of our blends with premium base teas."
"We were able to hike the caffeine impact of loose-leaf and bagged teas through a carefully plotted blending of teas, oils and other natural ingredients," said Fayal. This proprietary blending process allows the product to deliver a strong wake-up kick while maintaining tea's healthy dose of tannins and antioxidants. Zest Tea also helps drinkers avoid the 'jolt and crash' impact of coffee by sustaining the alertness over a six to eight hour period.
Last July, Fayal raised nearly $10,000 through a crowdfunding competition co-sponsored by American Express and Venture For America, of which he is a fellow.
Shortly after the competition, Fayal and the Zest team had its blends ready to go, shipping tins to all of its pre-order customers. "The initial feedback has been outstanding—people have applauded the blends for being delicious as well as energizing," said Fayal.
Zest has even been tested in the exhausting conditions of offshore sailing. The skipper of the yacht backed up Zest's energizing claims, stating Zest Tea was "better than coffee" for maintaining alertness over the week long journey.
Zest Tea currently comes in both black tea—Apple Cinnamon, Earl Gray and Blue Lady – and green tea— Pomegranate Mojito. More blends are in the works.
The next step for Zest Tea is getting its products into coffee/tea houses and later onto the shelves of grocery and retail stores.
All Zest Tea products are available on the website: http://www.getzesttea.com. Zest Tea information also can be found on Facebook, Google+, Instagram, and Twitter (@Getzesttea).
Samples for press and retail partners are available by request and free tins are awarded for the best Facebook videos promoting the brand.
Contact: Lydia Pierce | Team(at)getzesttea(dot)com | 860-705-4543
Website: http://www.getzesttea.com