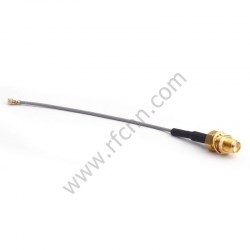 (PRWEB) February 19, 2014
Recently, RFcnn.com, China's leading supplier of SMA products, has launched its SMA cable assembly promotion. Clients from every part of the world can get a discounted price, up to 30% off, before March 2.
The Company's Statement
According to the CEO of the company, all the discounted SMA cable assemblies are delicately made by qualified workers. The company's online workers have updated its product line with the current special offer. Now, worldwide distributors can find the detailed information about the company's practical assemblies at its website.
When it comes to quality devices, RFcnn.com is excellent. The company offers top quality products only. It has a huge selection of useful items in stock, including coaxial connectors, cable assemblies, RF connectors, microwave devices and so on. Its friendly and knowledgeable workers are always working hard to create what customers actually need. At its one stop website, all the workers are ready to answer any questions.
The Hottest Designs
The most popular item in the promotion is called SMA Female TO U.FL Cable Assembly Jumper. Here are some details of it:
Part No : CA-SMAF-UFL
Description: SMA Female TO U.FL Cable Assembly Jumper
Cable Group: RG316,RG174,RG178,RG179
Connector Type: SMA Female TO U.FL
Frequency: DC-18G
VSWR: ≤1.35
Insertion Loss: ≤0.5dB
Impedance: 50 ohms
Body Material: Brass
Body Finish : Nickle /Ternary Alloy
Waterproof: IP65
Working Temperature: -65°C ~ 165°C
About RFcnn.com
RFcnn.com is an online shop of high end devices. It is a China based company that aims to provide customers with high quality products at the lowest possible prices. Customers can try the company's products through sample orders with a long-term contract. Most customers come back soon after receiving their first deals.
More details about the company's useful products can be found at http://www.rfcnn.com/SMA-Female-TO-U-FL-Cable-Assembly-Jumper-105.html.