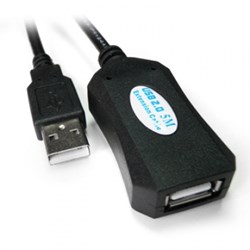 (PRWEB) February 20, 2014
Recently, Hiconn Electronics, a renowned cable manufacturer and retailer in China, has added a new collection of 5M Active USB 2.0 Repeater Cables to its online category. According to the CEO of the company, the brand new cables are specially made for the global clients.
What's more, all customers who place an order for these 5M Active USB 2.0 Repeater Cables can get a discounted price, up to 30% off. The promotion is valid until March 2, 2014. The company's new items come in several different specifications. They are all made from durable and safe materials. Hiconn Electronics has good consistency in the quality. It has a pool of experts who have extensive experience in making high end devices.
Here is some detailed information about the company's 5M Active USB 2.0 Repeater Cables:
--Extends and amplifies USB v2.0 signal up to 5 meters;
--Data transfer up to 480Mbps in USB v2.0,up to 12Mbps in USB v1.1 and up to 1.5Mbps in USB1.0;
--Plug & play: easy installation and recognition under Windows;
--Compatible with USB and ACPI norms;
--Compatible with most of USB external enclosures,scanners,mouse,keyboard
--Support Windows XP/Vista/7/8/Mac OS V10+
--Length 5 Meters
"We are happy to release our new versions of high quality 5M Active USB 2.0 Repeater Cables. At the moment, all our products are available at low rates. Customers who are in need of some useful devices can take a little time to browse through our website," the CEO says.
About Hiconn Electronics
Hiconn Electronics (Shenzhen Hiconn Electronics Co. Ltd.) is devoted to designing and manufacturing a wide range of connection cables and customized cable assemblies, offering many HDMI cables, VGA cables, SATA cables, USB cables, 1394 cables, DVI cables, SCSI (Small Computer System Interface) and more. For more information, please visit http://www.hiconn.net/.
Contact Person: James Yin (Sales Director)
Company Name: Shenzhen Hiconn Electronics Co., Ltd.
Address: Shenghua Building., Xixiang Road., Baoan District, Shenzhen, Guangdong Province, China
Zip Code: 518102
Tel: +86-755-8109 8345
Fax:+86-755-2779 3497