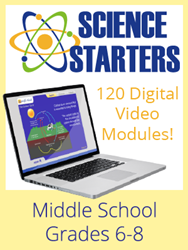 We've really received nothing but positive feedback from middle school teachers . . . this is exciting progress for us as a small publishing company.
Orange, TX (PRWEB) February 20, 2014
Scientific Minds has announced the completion of Middle School Science Starters 2.0, a major update to its original middle school product. The new 2.0 model retains all the benefits of the original model while adding student-centered features such as a video/audio option, interactive flashcards and digital quizzes.
The company's recently released biology and chemistry products were created in the new platform, which was developed for flexible learning environments. This makes Middle School Science Starters ideal for whole-class learning as well as for individual student use in tutorials or at home.
"We've really received nothing but positive feedback from middle school teachers who have been using the original Science Starters and tell us it has been an integral part of their classroom teaching. With the updated images, the video and the interactivity, the 2.0 product is one that both teachers and students are enjoying more than ever in the classroom. And now students are benefiting outside the classroom as well – this is exciting progress for us as a small educational publishing company," said Angie Casteel, Director of Product Development.
Middle School Science Starters are 120 digital video modules that spiral through the 6th-8th grade science standards. The Starters are built on the 5E instructional model and address 100% of 6th-8th grade science standards in most states. A standards search, added to the website in late 2012, provides alignments to all 50 states, Puerto Rico and the NGSS.
Scientific Minds also provides online professional development for all of its products, including the updated Middle School Science Starters. "The Science Starters easily enhance any existing curriculum, but the newly added online training provides more insight into Scientific Minds' research-based methods for implementing the Starters in and out of the classroom," Casteel explains. The company offers a free 7-day trial for each of its Science Starters products at http://www.ScientificMinds.com.
About Scientific Minds, LLC
Scientific Minds, LLC publishes award-winning online resources for K-12 science education. Founded in 2007 by a veteran science teacher, Scientific Minds, LLC provides tools and processes to enhance science instruction and includes strategies to support all students. The company mission is to develop quality, web-based educational products that inspire, encourage and promote next-generation skills for student success.