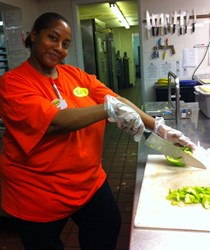 We see them as having abilities to help us in our business. We look to what they can do, not what they can't.
Jacksonville, FL (PRWEB) February 21, 2014
Lisa Warthen was happy to be alive when she walked away from the accident that left her with organic brain syndrome. "I was the one that was hit by the 18-wheeler off of US-1," she said. "I'm supposed to be paralyzed and not remember anything."
Thanks to Vocational Rehabilitation (VR) she is now working for Clara's Tidbits Restaurant and Catering, located in Jacksonville, FL. Honored in 2012 for their commitment to hiring people with disabilities, Tidbits continues to be an outstanding employer partner with VR.
"This is a wonderful program," said Lisa. "They find the time and patience to help you (and tend) to all your needs. The nice and wonderful job coach that I have, his name is Mr. Oliver, is the kind of coach that will keep you on your toes and look out for you and keep check on you."
Much of Lisa's success comes from Clara Leblac, owner of Tidbits, who has employed several workers with disabilities during her 30 years in the business. Her relationship with VR started when she needed qualified help for her restaurant and she called the local ARC, an organization that advocates for the rights and full participation of all children and adults with intellectual and developmental disabilities.
"We've benefited from them as much as they're benefiting from working here," said Clara. "We see them as having abilities to help us in our business. We look to what they can do, not what they can't."
Clara encourages other business leaders who are hesitant to hire people with disabilities to give it a chance and find success as she has. "They're missing opportunities for their own business staffing," she said. "We all have some type of disability. Let them shine with their abilities. You can learn so much from different people."
Lisa loves working at Tidbits. Her coworkers and managers make her feel happy and loved. Tearing up, she said, "'Ms. Clara' is like a mother to me, helping me stay on the right track."
Lisa is also thankful for VR's help in finding a place where she loves to work. When asked about her future goals, Lisa says she is very content. "As long as I keep believing and have faith and have a great job, my goal is complete."
People with disabilities in search of employment, vendors and Florida employers who are interested in being a part of this uplifting and gratifying experience, are encouraged to contact VR at (800) 451-4327.
About Vocational Rehabilitation:
Vocational Rehabilitation (VR) is a federal-state program that helps people who have physical or mental disabilities get or keep a job. VR is committed to helping people with disabilities find meaningful careers. Our employer-focused website, http://www.FLJobConnections.com, allows businesses to search at no charge for employees who are ready to go to work, as well as to post available jobs. VR has 80 offices across Florida, and last year helped 6,523 Floridians with significant disabilities find or keep a job. For more information about VR and its services, call (800) 451-4327 or visit http://www.Rehabworks.org.