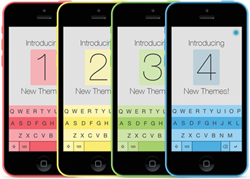 San Francisco, CA (PRWEB) February 20, 2014
Fleksy, the award-winning touchscreen keyboard company, today announced it has updated its iOS SDK and released it out of private beta. Now, any app developer can offer Fleksy as an additional keyboard choice in their app alongside Apple's keyboard on all iPhone, iPad and iPod Touch devices.
With its latest update, the Fleksy SDK is now completely free of charge, requires no sign up and allows any developer to implement it in minutes, with zero lines of code and without having to make any changes to their app at all. Switching between Fleksy and the iOS keyboard is also completely streamlined. "We're very excited to finally make our SDK available to hundreds of thousands of developers around the world. We learned a lot from the private beta and today's release brings the most beautiful, streamlined 3rd-party keyboard experience yet for iOS," said Ioannis Verdelis, COO of Fleksy.
Fleksy makes it possible to type without even looking at the screen, using patent-pending technology that analyzes where users tap their touchscreens to determine the words they intend to type. The Fleksy SDK is the only undertaking by any developer to bring an alternative keyboard to the entire iOS ecosystem. It was first released in private beta in December 2013 with initial partners Wordbox, Google Voice Connect, Launch Center Pro and Blindsquare.
A number of new app developers are launching today with the updated SDK on the App Store. These are Cotton Notes, hAppy for ADN, Matcha, MUDRammer, Remoter Pro, SnapStatus, Tap Forms Organizer, Vert 2, Write for iOS, You Doodle, and additional Fleksy-enabled apps are now added on a daily basis.
Fleksy's award-winning keyboard has received over a quarter million downloads on Android and the company is now bringing its unique keyboard experience to all iOS apps. The new SDK is a result of the company's continued commitment to the iOS platform and responding to users demand for a different, customizable keyboard experience. "Today's launch is a significant milestone for us. Within just a few days, thousands of developers can bring the magic of Fleksy into their apps, for free. We can't wait to see the response of the developer community and see Fleksy become a standard feature of every app," said Kosta Eleftheriou, CEO of Fleksy.
Developers can download the Fleksy SDK to offer their users an alternative typing experience here. The Fleksy App can be downloaded on the App Store here.
About Fleksy
Fleksy is a revolutionary keyboard powered by patent-pending technology that makes typing on any device fast, accurate and so easy you can type without looking. Its unique language algorithm founded on Geometric Intelligence moves beyond text prediction and autocorrect to give a much more accurate and easier typing experience than other keyboards. Winner of the 2013 CES Innovations Design and Engineering Award, Fleksy is the first keyboard app to be demonstrated on a 3D gesture system (Leap Motion); the first to be demonstrated on a smartwatch (Omate) and the first to arrive on iOS. Fleksy's award-winning design and technology is backed by venture capital firms including Highland Capital Partners and Kleiner Perkins Caufield & Byers. To learn more about Fleksy, visit http://www.fleksy.com.
MEDIA CONTACT:
Hector Salcedo
Email: hector(at)fleksy(dot)com
Phone: 415.742.2646
###