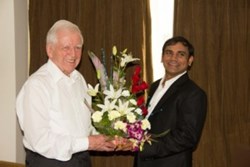 Harald Zur Hausen is Attending As Key Note Speaker of OMICS Group's 4th World Congress on Virology
Henderson, Nevada (PRWEB) February 21, 2014
OMICS Group International's Managing Director and CEO, Dr. Srinubabu Gedela and OMICS Group comrades met with Prof. Dr. Harald Zur Hausen at BioAsia 2014 conference in Hyderabad, India on 20th February 2014. The Group met with Dr. Hausen, who is a Nobel Laureate, to discuss the agenda of the 4th World Congress on Virology, a conference being organized by OMICS Group Conferences at San Antonio, Texas, USA from October 6-5, 2014.
Prof. Dr. Harald Zur Hausen was awarded with a Nobel Prize for Medicine in 2008 for his research and investigations on how cervical cancer is triggered by viral infections. Dr. Hausen's research and investigation enabled researchers to develop a vaccine against the cervical cancer which is the third most common type of cancer affecting women. 30 years ago Dr. Hausen suspected a relation between human papillomavirus (HPV) infections and cervical cancer, and then in 1980s he with his research group isolated HPV 16 and HPV 18 virus for the first time. Dr. Hausen is the chairman of the board of the German Cancer Research Centre (DKFZ) and honorary professor of the University of Heidelberg. Dr. Zur Hausen has received several national and international awards, some of them being Robert-Koch-Price, the Charles S. Mott Price of the General Motors Cancer Research Foundaton, the Federation of the European Cancer Society's Clinical Research Award, the Paul-Ehrlich-Ludwig Darmstätter-Price, the Jung-Price, Hamburg, the Charles Rudolphe Brupbacher Price, Zürich, the Prince Mahidol Award, Bangkok, the Raymond Bourgine Award, Paris, the Coley-Award, New York, the Life Science Achievement Award of the American Association for Cancer Research, San Diego, and the German Special Order of Merit with Star.
Prof. Dr. Harald Zur Hausen is a member of the Organizing Committee and a keynote speaker at the 4th World Congress on Virology in San Antonio. The theme for the October conference is "Anti-Viral Immunity and Countermeasures to Control Disease Pathogenesis". The conference is being organized by OMICS Group International in collaboration with the Pan American Society for Clinical Virology and will hold a three day session in San Antonio.
OMICS Group International is one of the best online open access publisher and a world-class scientific event organizer. The group, being one of the only publishers organizing scientific events, conducts around 100 International scientific conferences world-wide and publishes around 350 open access peer-reviewed journals online. The content published in these open access journals is accessible to all and free of readership cost. As scientific support the group's journals and conferences are pillared by 30,000 editorial board members and committee of organizers. With a vision of disseminating scientific and healthcare information, the group has collaborated with more than 150 national and international non-profit research organizations.