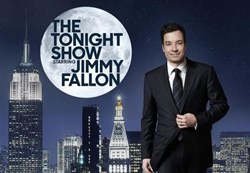 TV actor, comedian, and new TV show host Jimmy Fallon had an exemplary introduction as the new host of "The Tonight Show" last Monday night.
(PRWEB) February 22, 2014
TV actor, comedian, and new TV show host Jimmy Fallon had an exemplary introduction as the new host of "The Tonight Show" last Monday night. This was a considerable relief to the NBC channel's managers who had been concerned about replacing the host. The previous time that this occurred, when earlier host Jay Leno was exchanged for Conan O'Brien, the show's ratings plummeted and caused havoc for the series and the network. Fallon, on the other hand, debuted with stellar ratings and loads of positive responses. Jimmy Fallon has definitely confirmed himself after numerous acting auditions and acting jobs as a sustainable TV personality.
Fallon's opening episode was a huge spectacle and necessitated months of design and groundwork. There were many celebrity visitors, musical performances, and a rooftop performance at Rockefeller Center by U2. This amazing introduction has set the standards high for the remainder of this season and Jimmy Fallon's tenure as the series' host.
Before taking over "The Tonight Show," Jimmy Fallon was well-known for his work as a cast member of "Saturday Night Live" from 1998 until 2004. He has also acted in several movies and TV shows, and hosted his own late night talk show from 2009 until this year.
Since its debut in 2003, ExploreTalent has become the Internet's largest resource for actors, models, musicians, dancers, and production crew. Explore Talent's proprietary cast match technology is the most advanced entertainment-based technology of its kind. It matches a talent's attributes against tens of thousands of job postings every day.
Explore Talent's unique technology sends casting email alerts and posts auditions and jobs directly on talents' profiles, saving members hours of time from tedious searching.
Explore Talent has proven to be the best possible destination for talent to find modeling and acting auditions with well over 7.9 million members and over 60,000 auditions, castings, and production jobs listed - 40 times more postings and open casting calls than any other site.
The site's popularity is based on the fact that there are many ways for talents to network, make friends and connect with other industry players, participate in a wide variety of contests and earn prizes for being active on the site. The online community has been responsible for new collaborations and business ventures in entertainment because of opportunities for individuals to network and chat with each other.
Furthermore, the Explore Talent site features celebrity videos, exclusive interviews with actors, actresses, and musicians, such as Akon and T-Pain.
For more audition tips and acting jobs, visit http://www.ExploreTalent.com.