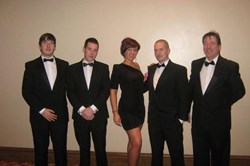 There is a family element here which is about caring about the customers.
Manchester, UK (PRWEB UK) 21 February 2014
A Manchester SEO Company who have gone from bedroom to boardroom are hoping for a record turnover this year. Celebrating 10 years of being in business and being #1 for SEO in Manchester shows their commitment, guile and determination to make their business succeed.
Initially started by Neil McVey, Net66 started out in a small house in Rochdale. Fast forward 10 years and they're now based in the City Centre just minutes walk away from Piccadilly station.
This internet marketing firm are now aiming for a record £1.65 million turnover after growing consecutively for 5 years reaching just under £900,000 in 2013. The business now employs 18 people which is a far cry from when it was just Neil and his Laptop.
The company still maintains the ethics that helped kickstart it. When starting out the company went around introducing itself to local businesses in the area. Upon moving to the City Centre this was no different and many businesses in Manchester now employ Net66.
Tom McVey who is sales director for Net66 had this to say:
"I remember my dad meeting businesses face-to-face when the firm first started out. It has gone a long way as when we moved to Manchester we kept that personal touch, and went around and introduced ourselves to many local business who we now deal with as clients."
As an SEO company they've shown their success by being #1 for SEO in Manchester for 10 years. This makes for great business partnerships and lots of clients who are with Net66 have been with Net66 for years.
For example, Dreaming Green who has been an SEO client with Net66 for years has also purchased two websites from them. Flair 4 Cakes has also taken advantage of Net66's design studio which has produced several award winning websites.
The company also specialise in E-commerce development, Social Media and print & media design and production. They've produced thousands of business cards and brochures for businesses in Ireland and throughout the UK.
The success of Net66 really does boil down to having a family throughout the company. The core of the business contains family members in key positions. Grace McVey, 22, is the finance director, Gregory McVey, 25, is the technical manager and David McVey, 26, is manager of customer services.
Tom added: "There is a family element here which is about caring about the customers in an industry renowned for low quality service. We are walking talking proof that a family company can hit the big time and maintain its values."
Net66 are a Manchester based digital marketing and design firm. Specialising in SEO, web design, web development, Ecommerce development, Print & Media and internet marketing. Situated near Piccadilly Train station they can be contact on 0845 11 22 530 or by visiting their website at http://net66.co.uk.