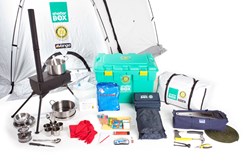 The ShelterBox USA board will provide pivotal leadership as we grow our capacity to assist more families left homeless by disasters.
Sarasota, Fla. (PRWEB) February 20, 2014
ShelterBox USA, an international humanitarian relief organization that delivers emergency tented shelter and other essentials families need to survive in the immediate aftermath of a disaster, is pleased to announce its 2014 board of directors and officers.
Elected as the organization's board chairman is John Keane, vice president of insurance operations for all member companies in the Nonprofits Insurance Alliance Group, a group of tax-exempt nonprofit insurance pools that protect more than 10,000 other charitable nonprofits across the U.S. He has more than 25 years of experience within the insurance industry.
Other officers are:
Theresa Mohan, Vice Chair – Senior Regional Counsel, IBM, New York, N.Y.
Bill Decker, Immediate Past Chair – President and COO, The Hub, LLC, Philadelphia, Pa.
Jim Carriere, Secretary – Senior Vice President, First Federal Savings and Loan, San Rafael, Calif.
Wayne Robinson, Treasurer – Owner of Roswell Office Furniture Outlet, Milton, Ga.
Board members at-large are:
Mark Midyett, Realtor, Keller Williams, Sarasota, Fla.
Gary Olsen, Assistant Treasurer – President of Olsen and Associates Architects, Champaign, Ill.
Jack Young – Senior Human Resources Advisor, Hite Associates, Brunswick, OH
About ShelterBox's Relief Efforts
As natural disasters and humanitarian crises wreaked havoc on families across the globe over the last year, ShelterBox delivered humanitarian aid, including tented shelter, water filters, blankets, mosquito nets, tool sets and other lifesaving supplies to thousands of families in over 20 countries.
ShelterBox is currently responding to flooding in Zimbabwe, volcano eruption in Indonesia, as well as Typhoon Haiyan, which struck the Philippines on Nov. 8, and the Syrian refugee crisis since October 2012.
ShelterBox has provided emergency tented shelter and other essential equipment to more than 5,000 families displaced by Typhoon Haiyan and more than 4,500 families displaced by the Syrian crisis.
Noting the continued need for emergency shelter following disasters, Emily Sperling, president of ShelterBox USA said, "The ShelterBox USA board will provide pivotal leadership as we grow our capacity to assist more families left homeless by disasters. We are pleased to have outstanding board members dedicated to our mission of providing shelter, warmth and dignity."
About ShelterBox USA
Since 2000, ShelterBox has provided shelter, warmth and dignity following more than 200 disasters in over 90 countries. ShelterBox instantly responds to earthquakes, floods, hurricanes, cyclones, tsunamis or conflict by delivering boxes of aid and other supplies. Each iconic green ShelterBox contains a disaster relief tent for an extended family, stove, blankets and water filtration system, among other tools for survival. ShelterBox's American affiliate, ShelterBox USA, is headquartered in Sarasota, Fla. Individual tax-deductible donations to ShelterBox USA can be made at http://www.shelterboxusa.org or 941-907-6036.