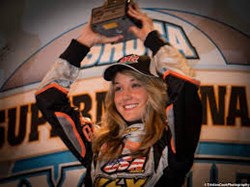 I am very proud to be a part of the WCM family.
Grand Junction, CO (PRWEB) February 21, 2014
Worldwide Career Management has added a budding star to its athlete roster: racing phenomenon, Sabré Cook.
The Grand Junction, CO native signed with WCM earlier this month, which comes on the heels of her advancement to pro-class last year at the SpringNationals in Tuscon, AZ. Through this partnership, WCM will help Sabré reach her career goals through solid endorsement deals and integrated brand management.
"I am very proud to be a part of the WCM family," she said. "From what I've seen they are very professional and understand all the challenges that come with being a professional athlete, so they will be very helpful in all aspects as I advance my career."
Cook's manager, Matt Guedes, also spoke his praise for the rising star and the character she brings to WCM. "I instantly knew she [Sabré] was a quality individual who was carrying herself in a manner that screamed champion," said Guedes. "Sabre's integrity, character and honesty will take her far. WCM is blessed to have her on the team."
Currently a sophomore engineering student at the Colorado School of Mines, the 19-year-old has been paving the way for female kart racers. She has even become the first female national champion of the 2012 SuperNationals competition.
With this new management, be on the lookout for a revamped Sabré Cook Racing website and social media accounts, including Pinterest, Twitter, Instagram and LinkedIn. All current social media handles are @SabreCookRacing.
About Worldwide Career Management (WCM): Worldwide Career Management is a full service management firm that specializes in the marketing and branding of professional athletes. Services include contract negotiations, marketing, sponsorship endorsement and public relations. WCM promises personal and exclusive relationships with each of its clients, with the goal of ensuring a secure "LAB" (Life After Ball), well before their playing career has ended. Information can be found at http://www.wcm.us.
###
Contact:
Brian Brundage
Agent
WCM
(813)-917-3833
brian(at)wcm(dot)us
Media Contact:
Sadie McGuire
Public Relations
(815) 592-8715
sadie(at)wcm(dot)us