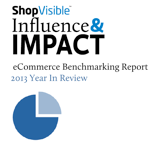 Chiefly, mobile commerce is booming, so online retailers must provide an optimized experience on all devices, or potentially risk losing sales.
Atlanta, GA (PRWEB) February 24, 2014
In its latest Influence & Impact report, eCommerce leader ShopVisible found that site traffic from mobile devices and tablets significantly increased – accounting for 30 percent of all visits. Smartphones alone accounted for 15 percent of traffic in 2013, peaking at 20 percent in Q4.
The report also identified an eight percent overall increase in site visits and higher overall revenue for ShopVisible's clients last year. The insights compare data from key performance indicators, such as site traffic and conversions, mobile devices, payment methods and shopping channels from 2012.
The large increase in mobile visits did not correspond with a complementary increase in mobile sales, although ShopVisible found that when mobile users do purchase, the average order value is comparable to that of desktop users. This likely signals that consumers are increasingly browsing from these devices but tend to transact more in a traditional browser/web experience. Over 25 percent of all online orders were paid for with something other than a credit card, such as PayPal and Amazon Payments, verifying that retailers must have preferred alternate payment options in place to meet the demands of today's omnichannel customer.
Additionally, comparison shopping engines (CSEs), like Google Shopping and PriceGrabber, account for up to seven percent of total online sales among ShopVisible's retailers that use CSEs. ShopVisible's clients using online marketplaces experienced a boost from marketplace sales compared to 2012, generating a total of 25 percent of their online revenue on average.
"Our Influence and Impact report serves sellers by helping them make informed decisions about omnichannel commerce trends," said Sean Cook, co-founder and CEO of ShopVisible. "Chiefly, mobile commerce is booming, so online retailers must provide an optimized experience on all devices, or potentially risk losing sales. That's why retailers such as Plow & Hearth and Case-Mate turn to our SaaS solution - making it easy for them to manage their website, online channels and mobile sites from just one platform."
Click here to download ShopVisible's Influence and Impact report for more eCommerce insights and industry trends.
###
About ShopVisible
ShopVisible is an end-to-end SaaS commerce platform that powers the omnichannel shopping experiences of today. Whether your customer is an individual consumer or a business, we power the commerce sites that enable them to buy from you. Reach your customers online, on their mobile devices or through popular channels like Amazon and eBay. ShopVisible also enables your back office management including orders, inventory, channel, content management and more. With our APIs, the ShopVisible commerce platform is extensible and easily integrates to 3rd party systems such as fulfillment, ERP, PIM, and other platforms that are core to your business. ShopVisible helps brands and businesses to attract and retain the new connected customer and is the chosen platform for companies like London Fog, Tempur-Pedic, Office Depot Canada, Plow & Hearth and MovieMars. Learn more at http://www.ShopVisible.com and by following @ShopVisible.