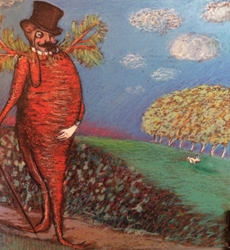 Where the world is yours to see for the very first time. And you make your own sense of it all.
Seattle, WA (PRWEB) February 24, 2014
Author-artist Cooper Edens says he was the "child of a child of a child." His mother was child-like even as a parent, and her mother was the same way. According to him, it was an ideal childhood.
In a sprawling home on the shore of Lake Washington, east of Seattle, with this supportive and indulgent family, he was allowed to wander and explore an idyllic private world. And his new iPad app "Cooper Edens One More Star" (based on his bestselling 2003 book) clearly reflects that childlike sense of wonder and discovery.
"There I was, with a couple of acres on the beach that was all mine, creating my own adventures all day. The afternoon of the day I started school, the principal called my mother and announced that I was too 'creative' for their school. My mom said "Fine," and I was home and on my own for the next year and a half."
When he wasn't outdoors he was immersing himself in drawing. "I started with coloring books where I would use wildly inappropriate colors, and then took comic strips from the paper, cut them up, and built my own stories, like pairing Alley Oop with Brenda Starr."
The esthetic that colors people purple and puts a caveman together with a glamorous reporter is clearly evident in the "Add One More Star" app. It's where you can get the advice that "When your elephant forgets … perhaps your aadvark knows the answer." And where you can see (and hear) a very dapper carrot walking down the garden path calling his lost rabbit.
"Being able to animate the text and images from the book, and add in a music track, and then also give the reader control over the timing and flow—that really brings it to life for me. I'll take credit for the art and ideas, but the animator, my old friend Michael DeCourcey, really delivered on the "touchbook" promise."
"One More Star" is the second of Cooper's books that have been re-created as an app, and Cooper sees the technology as helping readers experience for themselves the vision that connects with the child in all of us. "I think the app format involves the reader in an experience that kind of recreates that idyllic frame of mind, where the world is yours to see for the very first time. And you make your own sense of it all."
"Cooper Edens One More Star" is available, for the iPad, from the App Store—$8.99. (https://itunes.apple.com/us/app/cooper-edens-one-more-star/id792154901?mt=8).
About Cooper Edens: Cooper Edens is a Seattle-based author and artist. He has written and illustrated original works, like "If You're Afraid of the Dark," "The Star Cleaners Reunion," Secret Friends" and "Caretakers of Wonder." He has also compiled a number of "Classic Illustrated Editions" of The Adventures of Alice in Wonderland, Robin Hood, Tales from the Brothers Grimm, and others.
About Lucid Dream Atelier: Lucid Dream Atelier, Inc. (http://www.dreamgatechronicles.com) creates, develops and publishes digital graphic books and apps. "Cooper Edens One More Star," is their seventh publication, and their third collaboration with Cooper Edens. ("Cooper Edens Night Rainbow" is also available from the App Store, https://itunes.apple.com/us/app/cooper-edens-night-rainbow/id694877155?mt=8&ign-mpt=uo%3D2.)