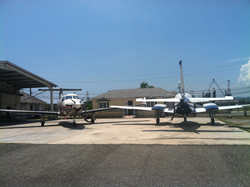 "Under this agreement VInci employees and contractors will have prompt access to EMED ground, air ambulance,medical technology and medical concierge services." said Duane Boise, Pres and CEO
Kingston, Jamaica (PRWEB) February 24, 2014
EMED Jamaica announces contract with VINCI Construction Grands Projets
EMED Jamaica Global Ltd.(EMED), Jamaica's premier air ambulance company announced that it has signed a multi year agreement with Vinci Construction Grand Projets, the world's largest construction company by revenue.
"Under this agreement VInci employees and contractors will have prompt access to EMED ground, air ambulance,medical technology and medical concierge services providing them direct access to local and international healthcare facilities." said Duane Boise EMED's CEO and President. "Vinci was specifically impressed with EMED's technology solutions that offers their employee base EMED PHR, personal health record system, which will allow for the patients continuity of care in an emergency event." said Jason Pawloski EMED's VP of Product Development.
EMED, having an agreement with Tenet Healthcare Corporation ,one of the largest healthcare networks in South Florida, with facilities conveniently located in communities throughout Miami-Dade, Broward and Palm Beach counties, will allow quick access to their facilities. Tenet Florida's commitment to being the industry leader in quality healthcare delivery is reflected in the more than 250 prestigious industry awards its hospitals have received from some of the leading healthcare quality rating agencies in the U.S. As a network, Tenet Florida's hospitals offer world-class healthcare and specialized centers of excellence in the areas of major trauma, bariatric surgery, cardiovascular medicine, orthopedics, neonatal care level III (the highest certification), obstetrics, oncology, comprehensive and primary stroke facilities, pediatric cardiology and neurosurgery and a gamma knife centre. For more information contact http://www.tenethealth.com.
VINCI is a French concessions and construction company founded in 1899 as Société Générale d'Enterprises. It employs over 179,000 people and is the largest construction company in the world by revenue. Throughout the world, VINCI Construction Grands Projets designs and builds major civil engineering structures (tunnels, bridges, dams, liquefied natural gas storage tanks, road and rail infrastructure) and buildings (skyscrapers, shopping centers, hotels, major industrial facilities, nuclear power plants, etc.). For more information contact http://www.vinci.com/vinci.nsf/en/index.htm.
EMED is a Jamaican-based company that facilitates access to affordable healthcare solutions through out the Caribbean, Central and South America. It provides air ambulance evacuation, ground ambulance services and healthcare services, healthcare technology solutions, employer/employee benefit plans, medical marketing and promotional activities, continuity of care, and case management services as part of the end-to-end solution that it provides. "We are committed to ensuring our Jamaican and Caribbean members have access to internationally recognized high quality and professional services offered by Tenet" said EMED's medical director Dr. Mohamed Basir. For more information please visit http://www.emedjamaica.com. EMED serves the Jamaica Civil Service Association (JCSA), Jamaica's largest trade union comprised of mostly government workers, CPJ, the Caribbean's largest food distribution company, many international spa resort hotels employees and tourist, and most recently COK Sodality Credit Union (COK), part of Jamaica's 900,000 member credit union groups.