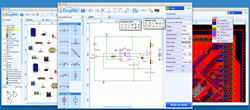 From a rough sketch through to a final electronic product: every step can be realised at http://easyeda.com
(PRWEB) March 05, 2014
More than 3 years ago, unable to find the right EDA tools to design and build electronics projects, a small team of dedicated hackers switched their focus from hardware design to the creation of EasyEDA.
Today, EasyEDA launched their zero-install Web and Cloud based EDA tool suite, designed to give electrical engineers, educators, engineering students and electronics hobbyists an Easier EDA Experience.
Schematic capture, mixed-mode circuit simulation and PCB layout are the three key functions of any EDA software: EasyEDA integrates all of them and more in a seamless web browser environment.
At the level of files or whole projects, work can be kept private, shared anonymously or with selected colleagues and friends or made publically available, via simple URLs or in a variety of open file formats including JSON and svg, png and pdf outputs for simple, high quality documentation.
EasyEDA has extensive built-in schematic, spice and PCB libraries which can be easily extended using powerful symbol, model and footprint creation and editing tools.
Schematics, symbols, and PCB footprint libraries from other tools such as Altium Designer, Eagle, KiCad and LTspice as well as third party spice models can all be imported quickly and easily.
From a rough sketch through to a final electronic product: every step can be realised at http://easyeda.com/.
With no software to install, visiting EasyEDA opens the door to the easiest way for electronic and electrical engineers, educators, engineering students and electronics hobbyists to explore their worlds.
With traditional PC based EDA, users face the twin barriers of a steep learning curve and high initial - and often longer term maintenance - costs for a fully featured package, limiting access to tools and crucially in today's fast moving world, the sharing of knowledge and experience. Now, with EasyEDA, you need just a few minutes to learn how to build a circuit using a tool suite that is free of charge.
Most of the traditional EDA tools are only Windows based. Even though Windows is the predominant OS for PCs in the world, Mac and Linux hackers can't be ignored. EasyEDA is cross-platform: using a modern web browser, anyone can enjoy an Easy EDA experience. Designs can even be checked on a smartphone or an iPad: anywhere there's internet access.
Hardware design is maybe a bit harder than software design: once a design is complete, there's still the question of finding a trusted and low cost PCB manufacturer. Now, with EasyEDA, that whole problem just goes away: with just a few clicks, low cost PCBs can be ordered and with EasyEDA's group buy business model; the more people order their PCBs from EasyEDA, the lower the price everyone will get.
Leading the way with a free PCB service for all college teachers for their open source hardware projects on the planet right now, EasyEDA plan to extend this service to all Open Source hardware projects built using EasyEDA.
The way to disruptive innovation is not always the easy way but with EasyEDA helping to drive the Open Source Hardware revolution, it just got a whole lot easier.
"Make an Easy EDA Experience, Save Your Money And Time" enthused Holatastic founding member, Dillon He. "The EasyEDA team has spent more than 3 years getting EasyEDA done but now we are looking forward to the next 3 years to make it perfect."
The EasyEDA editor and a wide range of example designs can be found at http://easyeda.com/.