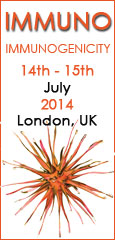 (PRWEB UK) 25 February 2014
What stimulates an immune response? How does the system cope with immunogenic compounds? And how do you screen for potential problems?
The Conference will address all these concerns and enable Clinical Immunologists, Physicians and Specialists within the field of Immunogenicity to discuss the major challenges currently being faced within the pharmaceutical industry.
The focus is on pre-clinical analysis and assessing treatments for clinical development. It will endeavour to look at the assessment of early risks in immunogenicity and the evaluation of in silico tools for determining immunogenicity. With an insight into the safety, development and validation of Monoclonal Antibodies.
Immunogenicity is a hurdle one looks to overcome and with the likes of aggregation being a factor when handling proteins, key sessions on Immunomodulation and Inducing Immunological Tolerance will enable delegates to get an understanding of how to address this and improve probability and efficacy.
From a clinical perspective, the conference will assess consideration and design of biologic therapeutics, clinical implications and review what the clinical outcomes are from using these immune modulatory approaches.
The conference will also look at, how to benefit the patient by assessing efficacy and toxicological concerns alongside the management of immunogenic responses. With regulators supposing that animal studies are not good predictors – how can predictability be shown with pre-clinical in-vitro tools?
Business Benefits:

Grasp an understanding of Immunogenicity and gain an insight into assessing early risks
Hear case studies on the tools for consideration being utilised for the determination of immunogenicity
Assess major hurdles in clinical development and the implications in design of biologic therapeutics
Enhance your understanding on how to best evaluate read outs for immune response
Conference Chairs:

Matthew Baker, Chief Scientific Officer, Antitope
Martin Lechmann,Development DMPK Project Leader, Roche
Key Speakers include:

Robert Dodge, Associate Director, BMS
Thomas Lee, Scientific Investigator, Clinical Immunology, GSK
Ronit Mazor, Research Fellow, National Cancer Institute,National Institutes of Health
Anne De Groot, CEO/CSO, EpiVax Inc
Daniel Kramer, Associate Director, Project Representative NBE, Merck Serono
Takashi Kei Kishimoto, Chief Scientific Officer, Selecta Biosciences Inc.
For those interested in attending there is a £300 discount until the 28th of February. For more information visit the website http://www.smi-online.co.uk/immuno1.asp or contact Fateja Begum on +44 (0) 20 7827 6184 or email fbegum(at)smi-online(dot)co.uk