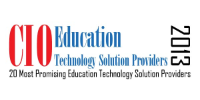 Carlsbad, CA (PRWEB) February 26, 2014
CIO Review selected PerfectForms as one of CIO Review's Top 20 Most Promising Education Technology Solution Providers. The annual list identifies solution providers who offer innovative, value-add solutions for K-12 and higher education. PerfectForms was recognized for its ability to streamline compliance intensive workflow processes with their online form building and workflow automation tool.
"PerfectForms has been on our radar for some time now for stirring a revolution in education technology and we are happy to showcase them this year due to their excellent delivery of top-notch technology-driven-solutions," Harvi Sachar, Publisher & Founder of CIO Review, said. "Perfectforms' solutions continued to break new ground within the past year benefiting its customers around the globe, and we're excited to feature them on our top companies list."
PerfectForms offers a web-based development platform that enables anyone to build online forms and workflow processes without writing code. Education institutions such as the University of Tennessee, Houston Community College and Scottsdale Unified School District use the software to streamline workflow and reduce budgets so it can be further invested in curriculums and other student needs. Some common applications include course enrollment, admissions, purchase requests, surveys and various Human Resources and Financial reporting tasks. The form and workflow solutions also integrate with other databases and third party systems, like Banner and PeopleSoft, so legacy systems can be enhanced without expensive customization efforts.
"We are honored that CIO Review has recognized our efforts to help K-12 and higher education institutions more efficiently manage their online form and workflow processes," said Paula Selvidge, President and CEO of PerfectForms. "We understand that administrative staff and faculty are constantly challenged to innovate while operating under tight budget constraints. PerfectForms enables them to reduce dependence on coveted technology resources and support rapid development of online form and workflow applications."
About CIO Review
CIO Review is a technology magazine with articles about enterprise solutions that can redefine the business goals of enterprises tomorrow. Discover more about the Top 20 Most Promising Education Technology Solution Providers here: http://www.cioreview.com/magazine/20-Most-Promising-Education-Technology-Solution-Providers-of-2013-ZFQU431925760.html.
About PerfectForms
PerfectForms empowers organizations large and small to rapidly automate forms and workflow processes. We enable anyone to build forms and workflow applications with no coding required. Simply drag and drop objects on a canvas to design a user interface, define the workflow, integrate with other external systems and build powerful reports.
Follow us on:
Twitter: https://twitter.com/perfectforms
Facebook: https://www.facebook.com/PerfectForms
LinkedIn: http://www.linkedin.com/company/perfectforms
For more information, contact:
Paula Selvidge
760-585-1884
pselvidge(at)perfectforms(dot)com