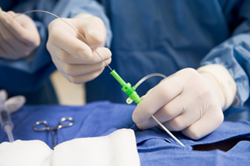 InstantGMP's step by step validation process is easy for small businesses to understand.
Cary, NC (PRWEB) February 26, 2014
A new resource is now available for small enterprises that manufacture medical devices to help them understand software validation requirements that come from the FDA's General Principles of Software Validation; Final Guidance for Industry and FDA Staff. A stepwise description of software validation practices for products that must comply with Quality System Requirement (QSR) standards is now on-line at http://www.InstantGMP.com/MD/medical-device-manufacturing-software-validation.
The FDA's validation requirements apply to software used as components in medical devices as well as to software that is itself a medical device. It also applies to software used in production of the device or in implementation of the device manufacturer's quality system. InstantGMP understands these standards and applies them to their software systems such as InstantGMP™ QSR, a medical device manufacturing software system.
InstantGMP™ QSR is a new medical device manufacturing software designed especially for small enterprises. While there are many good Enterprise Resource Planning (ERP) software systems available, only InstantGMP™ QSR has the workflows and processes required by the FDA's Quality System Regulation (QSR) built into the software. This makes the software easy to use, makes it easy to stay in compliance and makes this an affordable alternative to larger, more expensive ERP systems.
About InstantGMP:
InstantGMP, Inc. develops web-based software for manufacturing products that must comply with current Good Manufacturing Practices (cGMP) and FDA requirements. Our software systems were developed to meet the standards of cGMP, GAMP and 21 CFR Part 11. These software systems were designed to include the quality and cGMP checks necessary to make manufacturing cGMP products easy.