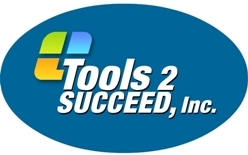 People don't leave companies. They leave bosses.
Westlake Village, California (PRWEB) February 26, 2014
Tools 2 Succeed, Inc. donates $5 of every e-learning purchase to the Success Foundation.
Sheryl Tuchman, founder and CEO of Tools 2 Succeed, Inc., was recently featured on The Success Foundation's page of Success Magazine:
"Tuchman knows a good leadership program when she sees one. She is founder and CEO of Tools 2 Succeed Inc. in the Los Angeles area, a company that facilitates leadership, employee development and sexual harassment prevention training at employers' sites and through online e-learning. Tuchman discovered the leadership lessons of the Success for Teens program through articles in Success Magazine. The program centers on the Success for Teens book, which is provided free to qualifying schools and nonprofit programs through contributions to the Success Foundation. 'I think that leadership training in general is just such an important topic for anyone at any age,' she says. 'My favorite saying is "People don't leave companies. They leave bosses."'"
View the full article at http://www.success.com/article/success-foundation-leading-edge.
About Tools 2 Succeed, Inc.
Tools 2 Succeed focuses on creating high-performance organizations in which every employee feels and acts like a partner in the business and is excited to contribute to its success. Services include onsite employee development training, leadership workshops, sexual harassment prevention training, outplacement services, DiSC behavioral assessments, and an extensive offering of e-learning courses. The company is based in Southern California and has a worldwide team of facilitators who can provide onsite training and consulting onsite or in public venues. Tools 2 Succeed is an Approved Provider of the Human Resources Certification Institute (HRCI), offering low-cost programs for HRCI recertification credit.
About The Success Foundation®
Today's teens face innumerable challenges. The SUCCESS Foundation® believes our youth can better meet those challenges by using the principles of personal-development-enhancing skills like goal-setting, dream-building, self-motivation, time management, and creating high self-esteem and a sense of purpose. The SUCCESS Foundation's mission is to help teens develop these skills so they can reach their full potential.