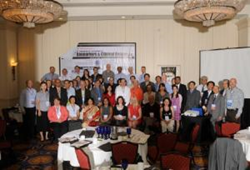 OMICS Group Conferences will organize Biomarkers 2014 at the University of Oxford, UK
Henderson, Nevada (PRWEB) February 26, 2014
OMICS Group International is one of the best open access journals publishers and a world-class scientific event organizer. OMICS Group International hosts more than 350 open access peer-reviewed journals and organizes around 100 International Conferences each year. OMICS Group International, a group started by Dr Srinubabu Gedela, constitutes of OMICS Publishing Group and OMICS Group Conferences. While maintain a log of medical, clinical, pharma, life sciences, environment and chemistry conferences and online journals, the group is proudly advancing towards its mission of making healthcare and scientific information open access.
OMICS Group Clinical Conferences is hosting its '5th International Conference on Biomarkers and Clinical Research' which will be held during April 15-17, 2014 at St Hilda's College, University of Oxford, UK. Biomarkers 2014 will be based on theme - Diagnostic significance of the therapeutic bio-clinical molecule. The conference will bring forward every aspect related to the Biomarkers Discovery covering all the possible research areas. The expected equal contributions from that of Academic and Industry will increase and positively add on to the developmental probability of holistic and cost effective Biomarkers research methodologies from experts' scientific discussions. The conference will observe healthcare industry developers, academic researchers and organizational scientists from the Biomarkers Development community to create avenue for the scientific information exchange for technological advancements, organizational ventures and scientific collaborations for technology transfer.
Biomarkers are becoming the most effective tool in drug discovery and development, hence it is important for the clinicians and researchers to keep in date with the following discoveries. Thus creating a useful global platform for the people with interests in biomarkers, the 5th International Conference on Biomarkers and Clinical Research will be hosted in collaboration with the University of Oxford.
Conference Highlights:

Types of Biomarkers
Functional Genomics and Cytogenetic Biomarkers
Functional Transcriptomics and Profiling Techniques
Biomarkers Data Statistics
Biomarkers in Clinical Research and Development
Omics Technologies in Biomarkers Discovery and Validation
Biomarkers of Exposure Response and Susceptibility
Biomarkers for Disorders
Techniques to Maximize Biomarker Identification
Biomarkers and Nanoparticles
Biomarkers 2014 will also host international workshops and symposiums. Biomarkers 2014 will witness the Editorial Board meetings from OMICS Group scholarly open access journals and with other experts from the field of health care, pharmaceuticals, bimolecular and biomarkers development.