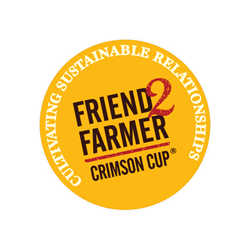 Crimson Cup has helped us tap into so many resources to learn about different international trade models while connecting with the coffee-growing community of El Socorro de la Penita, Honduras - Barrington Elementary Teacher Brian Shininger.
Columbus, Ohio (PRWEB) February 26, 2014
Using technology and the human touch, a local coffee roaster is helping Upper Arlington students learn about global markets and Honduran culture. Crimson Cup Coffee & Tea is proud to work with a group of fifth-grade students from Barrington Elementary for an in-depth social studies module that is connecting students with a remote coffee-growing community.
"In Upper Arlington we are very fortunate to have support from many local businesses, and the work with Crimson Cup has been outstanding," said Barrington teacher Brian Shininger. "They've helped us tap into so many resources to learn about different international trade models while connecting with the coffee-growing community of El Socorro de la Penita, Honduras and students at its Jose Cecilio del Valle elementary school."
On Wednesday, Feb. 27, several classes of Barrington fifth-grade students will tour Crimson Cup's headquarters and roasting facility at 700 Alum Creek Drive in Columbus. They will witness the roasting process for green coffee and learn how baristas prepare espresso and pour-over coffee drinks. The field trip is funded through a grant for service-learning projects.
The students also will present scholarship monies raised through bake sales and other community fundraisers. Funds will be used to help a sixth-grade student from El Socorro de la Penita, Honduras, attend seventh grade outside the community. Currently, more than 70 students attend the community's one-room elementary school, but fewer than five percent progress beyond the sixth grade.
The service learning project kicked off January 8 with an introduction to the direct trade model and the El Socorro community. Crimson Cup Marketing Director Melissa Rogner and Coffee Buyer Dave Eldridge gave an audio-visual presentation on Jan. 10, introducing students to the direct relationship Crimson Cup has with the village of El Socorro. A Skype session with Eldridge and David Lopez, the El Socorro community leader and coffee grower, is being planned for March.
Upper Arlington resident Greg Ubert, who founded Crimson Cup in 1991 after graduating Worthington High School and Harvard University, said he's excited by the opportunity to help students learn how markets work. "Coffee is the world's biggest cash crop, but local farmers often receive only a tiny fraction of the price consumers pay for their coffee beans," he said. "By choosing direct or Fair Trade products, consumers can ensure that farmers receive a fair price for their hard work."
Crimson Cup is known for its relationships with local coffee farmers. El Socorro is one of the first communities to benefit from the roaster's Friend2Farmer® direct trade program, which helps farmers to develop better coffee and a better quality of life for their community.
In addition to paying a premium price for the El Socorro Friend2Farmer coffee, Crimson Cup invests in the health and education of the community. The roaster recently raised $4,800 to support a second, English-speaking teacher in the community's one-room school. Last year, it also sponsored a service learning trip for Ohio State University students, who developed a five-year plan to transform the impoverished village into a thriving coffee enterprise.
About Crimson Cup Coffee & Tea
Since 1991, Crimson Cup Coffee & Tea has hand-roasted specialty coffee in Columbus, Ohio and taught independent business owners how to be successful through its coffee shop franchise alternative program. Sustainably sourced Crimson Cup coffee is available through a network of more than 350 independent coffee houses, grocers, college and universities, restaurants and food service operations across 28 states, as well as the company's own Crimson Cup Coffee House in the Columbus suburb of Clintonville. For more information, visit crimsoncup.com.