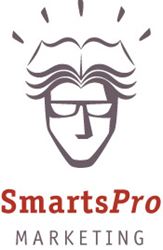 ASHLAND, ORE (PRWEB) February 26, 2014
SmartsPro Marketing is celebrating its 25th year of serving the independent insurance agent/broker community. A specialty marketing firm, SmartsPro Marketing helps agencies build their credibility and visibility with quality, up-to-date content, full-featured websites and customer relationship management (CRM) software.
Its clients include leading multiline agencies, as well as life/health and property/casualty specialists across the country. SmartsPro Marketing has been endorsed by several property/casualty and life and health insurance agent associations, including the National Association of Health Underwriters (NAHU), the country's largest association of health insurance agents. SmartsPro has been associated with NAHU since 2002.
"As we reach this milestone, we're grateful for the support we've received from our clients, some of whom have been with us for 20 or more years," said James Whitaker, CPCU, ARM, company founder and president. "But we couldn't have done it without a great team," he added. "As a small firm, we know that the best way to distinguish ourselves from other businesses selling services to insurance agencies is to provide a quality product and personalized service. Our smaller size gives our customer service and sales staff flexibility they might not have in a larger firm to tailor products to our customers' needs."
SmartsPro Marketing began in San Francisco as James Whitaker & Associates, a public relations and marketing communications firm serving the property/casualty insurance industry. Through its association with the Western Association of Insurance Brokers (now part of IIAA), the firm began publishing personalized client newsletters for members of WAIB in 1989. In 1990, James Whitaker & Associates acquired the Smart's Insurance Bulletin, the leading source for California property/casualty insurance news. Shortly thereafter, the firm changed its name to Smart's Publishing to reflect its growing emphasis on the publishing of news and marketing newsletters.
The firm has evolved with the times. To help agents take advantage of the marketing capabilities of electronic media, SmartsPro Marketing offers content in a variety of formats beyond print, including its exclusive HTML+ email with tracking capabilities. The company also provides websites optimized for insurance agency marketing. Built-in features include search engine optimization (SEO), in-depth definitions and explanations of different types of insurance coverages, regularly updated content to draw repeat visitors, and connections to quote engines.
In 2011 the firm again changed its name, to SmartsPro Marketing, to reflect its growing emphasis on providing a full range of marketing communication services for agents and brokers. It is a licensed reseller of LeadMaster, a cloud-based customer relations management (CRM) program with features developed especially for insurance agents. "As with all our other products, we take a real hands-on approach to LeadMaster," said Jim Whitaker. "We'll work with our clients through the set-up and training process to help them integrate LeadMaster into their sales systems. We can also provide something other CRM providers can't, which is the quality content that brings the leads in in the first place."
For more information, please contact Jim Whitaker, president, at 541-482-5189 x 2 or visit SmartsPro Marketing's website at http://smartspromarketing.com.