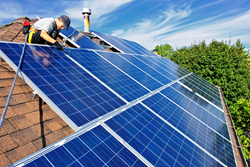 "For homeowners who have been thinking about moving to solar, there's never been a better time."
Portland, Oregon (PRWEB) February 26, 2014
Most states have special incentives for residents to install solar energy systems, including getting paid for the energy they generate. One of Oregon's most attractive solar incentive programs, called the Feed In Tariff (FIT), is set to expire on April 1, 2014. The state's generous FIT was modeled after Germany's program, the most solarized country in the world.
The FIT enables homeowners to be a part of a 15-year contract where they are paid by the utility company for the solar power they generate— at a rate higher than what they pay for their own electricity. "The math is compelling. Instead of paying the utility about 12 cents for every KW of electricity used, the program pays homeowners 39 cents for every KW hour of solar they generate," states Chad Ruhoff, manager of Neil Kelly's Home Performance Division.
"For homeowners who have been thinking about moving to solar, there's never been a better time," Ruhoff adds. "Everyone knows there's a lot of rain in Oregon. But Oregon has more sun than market leader Germany. The Feed In Tariff is a great route for going solar. With Oregon's FIT rate, you have the opportunity to be cash-flow positive in the first year, even with financing. "
Who is Eligible for Oregon's Solar Incentive Program
In order to qualify for the Oregon feed-in-tariff program, you must meet the following criteria:

You must be a customer of Portland General Electric (PGE), Pacific Power or Idaho Power.
You may not install the solar system yourself. Solar systems must be installed by a qualified Energy Trust solar trade ally contractor (such as Neil Kelly Company) listed on Energy Trust's website.
Neil Kelly Offering Complimentary Solar Assessment Through March
Neil Kelly Company is now offering area homeowners a solar assessment and proposal at no cost. Homeowners are advised to contact Neil Kelly by March 20th to schedule a complimentary in-home solar assessment in order to meet the solar program's April 1, 2014 contract submission deadline.
About Neil Kelly Company
Neil Kelly Company, the largest residential design-build remodeling firm in the Northwest, helps homeowners care for all aspects of their homes. Services include award-winning design-build remodeling, energy upgrades, solar panel installation and home repairs big and small.
Neil Kelly is proud to be a certified benefit company (B Corporation) and seeks to be a caring corporate citizen in everything that we do. With five Pacific Northwest locations in Portland, Lake Oswego, Eugene, Bend and Seattle, Neil Kelly is renowned for its innovative design and remodeling services, quality craftsmanship and sustainable building practices. Homeowners are invited to visit Neil Kelly design centers or attend free educational workshops. Visit http://www.neilkelly.com.