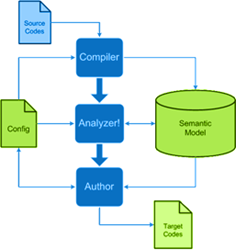 Great Migrations is committed to offering an upgrade solution that helps teams "cash in" the value of their legacy software so they can deliver a more desirable upgrade faster and with fewer resources.
Dublin, OH (PRWEB) February 27, 2014
Great Migrations LLC, a member of Microsoft's Visual Studio Industry Partner (VSIP) program, is providing assistance to those wishing to upgrade Visual Basic 6.0 (VB6) and Active Server Pages (ASP) applications to .NET.
Microsoft's Visual Basic 6.0 Resource Center now offers a free license to the "Great Migrations Studio". gmStudio is a code translation and re-engineering tool for developing scalable, custom VB6/ASP/COM to .NET upgrade solutions. Though limited to 10,000 lines of code, this license will get teams started with upgrading VB6 applications to VB.NET or C#. It will also provide an opportunity to evaluate the benefits of investing in a larger license or a license for the ASP-to-.NET upgrade feature.
As a comprehensive software re-engineering platform, gmStudio helps teams plan, customize, improve, verify, and track upgrade processes that meet unique source code challenges and .NET coding standards. A programmable, configurable software transformation and code generation tool, gmStudio offers unprecedented performance, flexibility and power. The tool enables an agile, tool-assisted rewrite methodology and unparalleled support for large-scale upgrade projects with ambitious .NET adoption goals.
"At Great Migrations, we focus on results. We have helped to upgrade tens of millions of lines of code from VB6/ASP systems to .NET through gmStudio, our proprietary migration tool set. We believe business critical VB6/ASP systems contain significant value. We are committed to offering an upgrade solution that helps teams "cash in" the value of their legacy software so they can deliver a more desirable upgrade faster and with fewer resources. We believe teams using our tools will appreciate being able to spend a greater portion of their resources on technical design, optimization, and other strategic enhancements," said Mark Juras, founder and managing partner of Great Migrations.
Great Migrations also provides consulting services to customers who are seeking to accelerate their upgrade efforts -- from ad hoc technical support and training services to comprehensive, end-to-end upgrade projects. Great Migrations also has a partnership program to help consulting firms offer more competitive, higher value upgrade services leveraging gmStudio.
"We are quite pleased to see Great Migrations, a valued member of the Visual Studio Industry Partner program, provide great tools for enterprise developers to modernize their applications," said Mitra Azizirad, General Manager, Developer Tools Marketing and Sales at Microsoft. "The gmStudio migration platform from Great Migrations helps developers migrate to Microsoft .NET while maintaining a high level of code quality, as well as tracking and managing those migrations."
About Great Migrations
Headquartered in Dublin, OH, Great Migrations provides enterprise system analysis and re-engineering tools that improve legacy software assets. Leveraging more than 30 years of experience and its proprietary translation methodology, Great Migrations helps organizations preserve and enhance business-critical applications.
The Great Migrations products are designed to enhance IT agility, minimize risk and disruptions, and decrease support costs for its customers. Proven analytical offerings enable customers to more accurately assess and manage enterprise upgrade efforts. Advanced re-engineering features help organizations successfully implement their .NET adoption strategy by upgrading legacy VB6/ASP software assets to .NET. Visit http://www.greatmigrations.com for more information on the company's products and services.