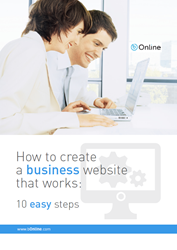 (PRWEB UK) 28 February 2014
A strong web presence is now essential for businesses of every size, according to new research from bOnline. The results highlight the importance of a website for every business, even those that are very small or are not looking to sell online.
In the survey of 750 consumers, 60% said they would not trust a business if they couldn't find any information about it online.
Almost half (47%) of customers said they expect every small business to have a website, with a further 36% saying it depends on their business type. Only 17% said they do not expect small businesses to have a website.
Anthony Karibian, CEO of bOnline, said: "Today, being visible on the web is the sign of a legitimate business. It's not just about sales - even if you don't intend to sell online, a professional looking website helps to establish your business as trustworthy and also puts you in front of a much larger audience."
bOnline's research was conducted as part of a new eBook, which outlines ten simple steps to creating an effective small business website. The eBook is available as a free download here.